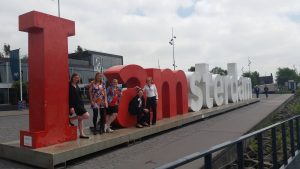 Physiotherapist learns from the best
An Albury physiotherapist attended an international conference in Amsterdam recently to discuss the latest developments in physical therapy for cancer patients worldwide.
Veronica Scriven, of Ramsay Health Care, took part in the inaugural International Conference on Physical Therapy in Oncology in June following a grant from the Albury Wodonga Regional Cancer Centre Trust Fund.
There she learnt about the most up-to-date research and best practices being undertaken by physical therapists around the globe.
"This was a huge opportunity for me as the sole physiotherapist at the Albury Wodonga Regional Cancer Centre to develop partnerships with other health professionals across the world, receive the most up-to-date practice and improve on my skills in oncology," Ms Scriven said.
One of the key learnings of the conference was the importance of the prospective surveillance model, which means physical therapists are involved in the treatment of cancer patients right from the beginning.
"It's really about physiotherapists seeing patients from diagnosis, and prior to any surgery or treatment, to record their baseline measurements," she said.
"This then enables us to better monitor and communicate with the medical team about the patient's function and about preventing or reducing side-effects."
Ms Scriven will now look to share her knowledge with other health professionals in the region.
She said there are "minimal" oncology physiotherapy services available to patients of the Albury Wodonga Regional Cancer Centre.
"My hope now is to offer further training to other therapists in the local region, which will help ensure that cancer patients and their families do not have to travel for their specialised physiotherapy needs," she said.
Ms Scriven was granted $1000 by the Albury Wodonga Regional Cancer Centre Trust Fund to cover registration costs associated with attending the conference.
This forms part of the Trust's commitment to staff training and development to enhance patient care.