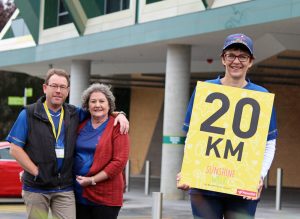 Sunshine Walk back for 2020
In this period of uncertainty, the Albury Wodonga Regional Cancer Centre Trust Fund's 2020 Sunshine Walk will aim to help people keep fit, stay connected and provide much-needed encouragement for families in the region impacted by cancer.
Registrations are now open for the Sunshine Walk on Sunday, November 22 and include options for three course distances of 20km, 5km and a new 10km route.
Held for the first time last year, the event is non-competitive and raises funds and awareness for the Albury Wodonga Regional Cancer Centre.
The inaugural event saw about 1000 walkers help raise more than $200,000.
Trust Fund board Chair Michelle Hensel hopes the walk will give communities across the region something to look forward to once the current pandemic situation subsides.
"By November, we hope that people are able to gather as normal and this event brings the community together once again for the united cause of supporting local cancer patients," she said.
"But in the meantime, the Sunshine Walk will encourage people to keep fit and motivated, and stay connected through our website and social media platforms."
With support from sponsors Healthfocus Physiotherapy, the Trust Fund will provide online activities to help participants keep fit, whilst still observing social distancing measures, so they will be ready to tackle the walk.
People will also be encouraged to share their fitness journeys and inspirational stories on social media or on their personal fundraising page on the Sunshine Walk website.
"Participants are also encouraged to fundraise if they can, with all money raised staying local to help people in our community impacted by cancer," Mrs Hensel said.
Ambassadors David and Rox McNamara took part in the Sunshine Walk last year after Rox was treated for breast cancer.
"The Sunshine Walk allowed us to give something back in 2019," Mr McNamara said.
"It was an amazing day – better than we ever imagined – and this year is only going to be bigger and better as Team McNamara."
Fellow Ambassador Matt Langbine also has a personal reason for getting involved with the walk after he was treated for myxoid sarcoma last year.
Mr Langbine, 27, will be joined by his wife, Jorja, who last year helped raise almost $1500 through her team, Doing it for Langa.
"I hope we can do our part in raising cancer awareness and showing it can affect anyone," Mr Langbine said.
"The past year has been a journey for our little family and this walk will be a celebration for getting through it all."
All three Sunshine Walk courses will start and finish at Noreuil Park, Albury and take in the spectacular scenery along the Murray River and Gateway Island.
The 10km course will follow the Lincoln Causeway over to Belvoir Park, Wodonga, while the 20km course will continue across Albury and make an emotional journey past the cancer centre.
Walkers unsure if they can make the 10km or 20km distances will have the option of catching a Dyson's bus between rest stops or back to the finish line.
If strict COVID-19 restrictions are still in force when the walk is due to take place, the event will be run online with walkers encouraged to complete the same distance they signed up for, from their homes.
For further information or to register, click here