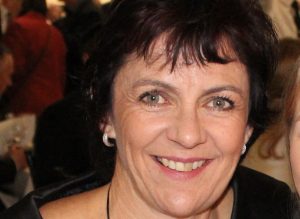 A message from our chairperson
As the new cancer centre became a reality I always knew that it was something I wanted to be involved in, in some capacity.
However it never occurred to me that it would be as Chairperson of the Trust Fund.
I have accepted the challenge of Chairperson with both excitement and some nervousness.
I feel such a sense of responsibility in leading the board, and continuing the vision of the early members who fought so hard to give our region a state-of-the-art cancer facility.
My family knows firsthand the enormous emotional, financial and psychological burden that a cancer diagnosis brings to the whole family.
When my son was diagnosed with a rare and aggressive cancer in 2011 at the age of 19, his total treatment was carried out in Melbourne.
For the best part of a year my son and I lived in Melbourne with huge disruptions to our family balance.
Despite continuing to fight for over two more years, my son succumbed to his cancer in 2014.
My passion in leading the board will centre around the patient experience.
We must continue to strive to deliver every aspect of a patient's cancer treatment.
From chemotherapy to radiation, to possibly giving them access to clinical trials, and especially focussing on their overall wellbeing.
This includes services such as psychology, support groups, massage therapists, and dieticians.
We must continue to attract leading medical practitioners to our centre and support our current staff with professional development.
Finally, when we have all pieces of the puzzle under the same roof our regional patients can expect to have the same outcomes as their city counterparts.
I look forward to leading the board into the future and continuing the great work we have achieved so far.
Michelle Hensel was appointed as the new chairperson of the Albury Wodonga Regional Cancer Centre Trust Fund at its annual general meeting in November.