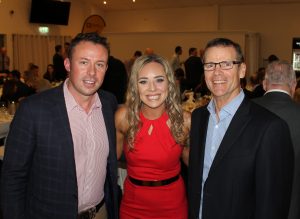 ANZ serves up $100,000 in donations
Karl Jacka would often talk about the small wins in his fight against cancer.
Whether it was a positive blood test result or a text message from a friend, there was always something to be grateful for.
But for his wife Cristy, in speaking to a community fundraiser recently, there was cause to celebrate more than just a small win.
The charity auction dinner, organised by ANZ Albury Wodonga, managed to raise a staggering $100,000 for the Albury Wodonga Regional Cancer Centre Trust Fund and Junction Support Services.
Mrs Jacka, who was a guest speaker at the event, said the cancer funds would assist a "most amazing" place to make a genuine difference to patients and their families.
"Each and every dollar that goes into that facility is going to help someone just a little," she said.
"And if you pool all of those together, that is one massive win we have as community, and that is something to be very grateful for."
Held on October 4, the fundraiser involved a tennis challenge followed by charity dinner and auction, featuring Paralympian and US Open champion Dylan Alcott.
ANZ Regional Executive Conor Noonan told the 240-plus crowd that a similar event last year which raised $72,000 for the cancer centre was one of the proudest moments of his life.
"Of course, those kind of things breed a little bit of appetite for more," he said.
"And what is here tonight is a resounding endorsement of the work of our customers, the work of our community, the work of our team, to bring a little bit of magic into the community."
Outgoing Trust Fund chairman, Grant Luff, thanked the ANZ and everyone involved for their generosity and support of a worthwhile cause.