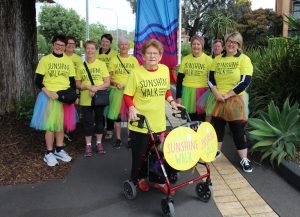 Brave Hearts walk in honour of lost friends
After losing three members in three months, the Virtual Sunshine Walk will be both a heartening and solemn event for Brave Hearts on the Murray this year.
The Border cancer support group has 16 members signed up for the November 22 walk, and hopes to raise at least $4000 for the Albury Wodonga Regional Cancer Centre Trust Fund.
Team captain, Janine McGrath, said Brave Hearts were passionate supporters of the cancer centre because they have seen first-hand how vital the facility is for Border residents battling cancer.
But Miss McGrath said the cause is all the more close to their hearts following the loss of long-time members, Di Laundess, Ian Moreland and Brenda Konecnik to cancer in May, June and July respectively.
"Brenda was our Sunshine Walk ambassador and we want to fulfil her dream of not only participating in this year's event, but raising as much money as we can," she said.
"Our theme for the walk this year is rainbow, in honour of Brenda who was always so positive and cheerful despite a long-running battle with metastatic breast cancer."
While unable to complete the full 5km, 10km or 20km as part of the Sunshine Walk, Brave Hearts' oldest member, Thelma Wright, is doing her bit by walking Albury's main street in her Sunshine Walk shirt and with her walker.
Mrs Wright, 82, is a founding member of the group and hopes to walk at least three blocks of Dean St to help raise awareness of the cause.
"Whilst I'm not as active as I was, I still want to be involved and do anything I can do to help," she said.
Miss McGrath has issued some additional challenges to members of Brave Hearts on the Murray members in support of the event.
"Thelma has chosen to take on the challenge this week and walk Dean St," she said.
"She is a prime example of how we come together to support not only the needs of our community, but also our organisation and individual members.
"On Thursday, with Thelma leading the way, we are showcasing our mantra of love, courage and support."
Brave Hearts on the Murray Inc was established in 2005 and is in its 15th year.
As an organisation they have donated over $70,000 to the Albury Wodonga Cancer Foundation Financial Assistance Program, $35,000 to the Border Medical Oncology Research Centre and established a number of successful projects designed to support people who have been touched by a cancer diagnosis in the region such as the Wig Library, Dragon Boat Club, Celebration Rose Garden and the launch of their book What Cancer Taught Me in 2018.
"We are proud to support the Sunshine Walk and would love all our friends, families and supporters to jump on board and show their encouragement by making a donation to our page on the Sunshine Walk website," Miss McGrath said.
The Sunshine Walk, to be held virtually this year because of COVID-19, challenges participants to walk at a location of their choosing.
All money raised goes to the Albury Wodonga Regional Cancer Centre Trust Fund.
To find out more click here