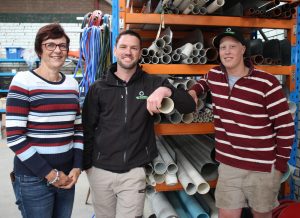 Business rallies behind apprentice after cancer diagnosis
As a young apprentice, one of Ben Haslam's main concerns when he was first diagnosed with cancer was that he could lose his job.
But not only did his work give him all the time off that he needed, they have also decided to give back to the facility that helped save his life.
KBC Plumbing has entered a team in the Virtual Sunshine Walk, to be held on Sunday, November 22, with the aim of raising $15,000 for the Albury Wodonga Regional Cancer Centre Trust Fund.
Owner Kade Bell-Chambers said that when Ben, 19, was diagnosed with Hodgkin Lymphoma in March, it sent shockwaves through his small business.
"Earlier this year, Ben hadn't been feeling well and found a lump in his neck," he said.
"He's like family to us and so when we found out it was Hodgkin Lymphoma, it was devastating."
Ben, who started at KBC Plumbing doing work experience at 15, underwent surgery to have the lump removed followed by six months of chemotherapy.
He finished treatment on September 22.
Mr Bell-Chambers said through this challenging time, the Albury Wodonga Regional Cancer Centre provided Ben and his family with the best treatment, care and support.
"It really hit home especially in the current climate with coronavirus, how lucky we are to have the cancer centre here," he said.
"Ben needed treatment every two weeks for six months.
"If it wasn't for the cancer centre, Ben would've had to travel to Melbourne for his treatment, which would've meant self-isolating for two weeks.
"Then when he was feeling better again he would've had to return to Melbourne to do it all over again."
Ben also considers himself extremely fortunate to have been able to have his treatment not far from his home in Thurgoona, and to also have the support of his work.
"I was very lucky to not have to worry about having a job to come back to," he said.
"I love my work and everyone I work with.
"The fact that they're doing this fundraiser to help other people and the cancer centre is fantastic, because not having to travel for my sickness was a big thing.
"With how terrible I felt, I wouldn't have wanted to travel to Melbourne.
"It's just the little things that make it a lot easier when you're sick."
Six staff members at KBC Plumbing have pledged to shave their heads as part of the fundraising efforts, while a further three will colour their hair.
The team, which has already raised more than $5000, hopes to reach $15,000 before undergoing their dramatic transformations at a special event at the McDonald Road, Lavington workshop on Friday, November 20.
To donate towards Team KBC click here