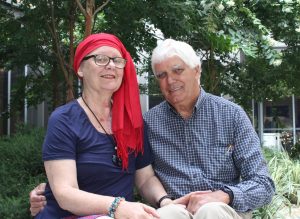 Cynthia's troubles turn around
Sitting in the car park of the Albury Wodonga Regional Cancer Centre, Cynthia Maher's hands were shaking and her heart was pounding in her chest.
It was her first day of chemotherapy and for someone petrified of needles, it seemed that things couldn't really get much worse.
But as she made her way up to the ward, and fought back tears as she filled in the paperwork, Cynthia kept telling herself to be strong and that everything would be alright.
She now describes the building, the people and the facilities, as a "breath of fresh air".
"I can't say it was terrible to walk in there in the end," she said.
"The first time we pulled up in the car park I thought, 'I shouldn't be here, I don't want to be here; I should be fit and healthy and doing things'.
"But when you go in, everyone is so bright and cheery and it lifted my spirits and actually made me feel like I was going in a different direction."
Cynthia, 63, discovered a lump in her breast as she was showering for work in March last year.
Tests found a 40mm tumour which was confirmed as an infiltrating ductal carcinoma, and surgery was carried out to remove the breast and lymph nodes about four weeks later.
Cynthia was required to undergo chemotherapy and radiotherapy, both of which she chose to receive at the Albury Wodonga Regional Cancer Centre.
Her last round of radiation was on December 20 and in January, she was told the cancer had disappeared.