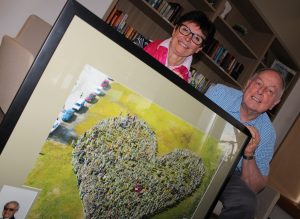 Founding board members call it a day
Well before the first sod was turned, plans were already underway to ensure a new Albury-Wodonga cancer centre would succeed in meeting the needs of the community in the future.
In 2010, a decision was made by the Albury Wodonga Cancer Foundation to establish a Trust Fund with the purpose of raising money to support local cancer services.
Representing the foundation was Geoff Smith, from the medical profession oncologist Dr Craig Underhill and from the broader community Jenny Black, Di Thomas, John Mollison and Grant Luff.
Six years after they officially formed the trust, and two years since the cancer centre was built, Mr Smith and Mrs Black have decided to step down.
Mr Smith said he felt confident the trust would continue to prosper and build on the amazing success it has already had in raising vital cancer funding.
"Together we've built a magnificent trust that now has an ongoing life to support the cancer centre," he said.
"When Jenny and I started this, the cancer centre wasn't even a hole in the ground.
"But now we have this marvellous facility and there's real recognition of the value of the trust by the medical and health fraternity, as well as by the people who are using the service.
"They realise that the trust is providing so much support to the cancer centre and that it's an important part."
Both Mr Smith and Mrs Black were involved in the campaign by the cancer foundation to have an integrated cancer centre built on the Border.
Led by foundation chairman, the late Eric Turner, the campaign saw a petition signed by 17,000 residents presented to the Australian Government.
This was followed by a gathering of 1400 men, women and children, representing the number of people diagnosed with cancer in the region each year, on the Lincoln Causeway to form the shape of a heart.
Mrs Black said she was extremely proud to have played a part in securing the $65 million in federal funding needed to undertake the project.
"To me this whole concept was like a child that was so hard to conceive," she said.
"Then once it was born, the pride of watching it develop … you can't describe it.
"And the public now is just so appreciative of having something here and unfortunately it's being used more and more everyday."
Mr Smith has served as secretary on the trust board since it formed, while both he and Mrs Black have been long-serving members of the volunteer fundraising committee.
They stepped down from the board at the trust fund's annual general meeting in November.
The meeting also elected new office bearers – Michelle Hensel as chairperson, Anne-Marie Humphries as secretary and Anthony Liston as treasurer.
They replace Grant Luff, Mr Smith and John Mollison respectively.