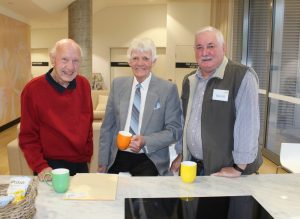 Group support specially for men
It's a sight not too often seen – a group of men getting together to talk about their feelings.
But at the Albury Wodonga Regional Cancer Centre, it's something that happens every month as a way of reaching out to men who have been diagnosed with all types of cancers.
The newly formed Men's Cancer Support Group allows men to come together and talk with others with similar experiences.
According to group leaders, Bernard Townson and Darrell Richards, it offers support and encouragement from those who have "been there".
"We've both been diagnosed with bladder cancer and when you get told you've got cancer, you don't always get a lot of information about what happens next," Mr Townson said.
"In your mind, you have been given a death sentence and that's it.
"But we want to be here for men who have received that diagnosis and show them that there is a lot of support out there available to them if they want it."
The group currently has 10 members on its books, with hopes this number will grow in the future.
There are also plans to have guest speakers come and talk to the group about a range of health and wellbeing topics.
The group meets from 10am to midday on the fourth Tuesday of the month in the Wellness Centre.
For further information, contact Bernard on 0428 434 587 or Darrell on 0408 269 305.