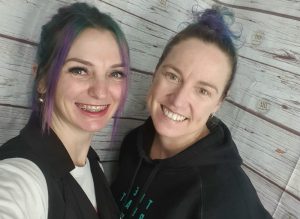 Hairdresser braves the shave for fundraiser
As a hairdresser, Sarah Pigdon is used to making people feel fabulous by waxing, filing and crafting salon perfect styles.
But this month the owner of Yarrawonga salon, Beyond the Fringe, decided to spread goodwill of a different kind by launching a fundraiser for the Albury Wodonga Regional Cancer Centre Trust Fund.
Sarah and her best friend, Lauren Gleeson, have set a goal to raise $10,000 to shave their heads by New Year's Eve.
For every $2000 they raise, they will dye their hair crazy colours live on social media.
Sarah said the fundraiser has been inspired by Lauren's mum, Debbie Cox, who has been diagnosed with terminal lung cancer.
"I wanted to lift Lauren's spirits and give her something to be positive about while her mum undergoes treatment," she said.
"It has helped her so much, and also shows everyone what the family, and many local families, go through following a cancer diagnosis."
Debbie, 62, who has undergone chemotherapy and is now receiving immunotherapy through the cancer centre's research unit, said she can't speak highly enough of the wonderful treatment and care.
"The cancer centre is just amazing," she said.
"The doctors and nurses are amazing, and everyone there is just lovely and caring.
"If I had a million bucks I'd give it to the cancer centre. I really would."
As part of the fundraiser, Sarah and Lauren have organised a raffle including a Joico hair care pack, car cut and polish, Cakes by Terrie voucher, Tame Café voucher, Partylite hamper, Yarrawonga Golf Club voucher and Nagle's Off the Hook Butchery voucher.
Tickets are $2 each and are available at Beyond the Fringe, Pigdons Holden and Nagle's butchery.
Live auctions with goods donated by local businesses are also being held twice a week on the Beyond the Fringe Facebook page.
More than $2800 has already been raised, with Sarah and Lauren set to carry out their second live colour this Saturday, September 26.
They did their first live colour to launch the fundraiser earlier this month.
All money raised will go towards cancer research at the Albury Wodonga Regional Cancer Centre, which gives locals access to world-class clinical trials.
Sarah urged anyone wanting to donate to visit the Beyond the Fringe Facebook page, or contact the salon on (03) 5744 1545.
"We would love more businesses to get behind us with donating products and vouchers that we can auction to get us to this goal," she said.