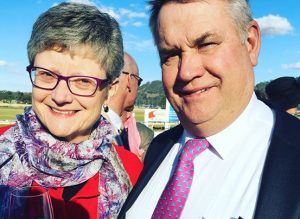 John Watson joins the team
After losing his wife to breast cancer last year, Wodonga councillor John Watson is now hoping to give back to the "cancer family" which helped him cope throughout the ordeal.
Mr Watson was appointed to the volunteer board of the Albury Wodonga Regional Cancer Centre Trust Fund at its annual general meeting in November.
He was encouraged to take on the role after experiencing firsthand the wonderful support provided not only to cancer patients, but their whole family as well.
"With all the fantastic delivery of services from the cancer family that supported Christine and myself over seven years, both of us wanted to give back," he said.
"We were both involved in the horse racing event at the Wodonga Race Club last year which successfully raised money for BCNA (Breast Cancer Network Australia).
"It was one way we could give back to services that help the whole family and I now hope to be able to build on that with the Trust."
Mr Watson has served on Wodonga Council for 12 years, and on the Scots School Albury board for 10. He is also a former board member of Aware Industries.
By joining the cancer trust fund, Mr Watson hopes to come up with innovative ways to raise funds to further support patients and all those involved in the cancer journey.
"We're just so lucky to have this wonderful state-of-the-art cancer centre here and I'd like to see it prosper and grow," he said.