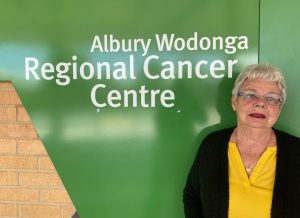 Marie puts locks on line for cancer
A 75-year-old great grandmother is preparing to shave her head in support of the Albury Wodonga Regional Cancer Centre Trust Fund.
Marie Orr, of Wodonga, hopes to raise $5000 after signing up for the Virtual Sunshine Walk on Sunday, November 22.
It will be her second year taking part in the Trust's annual fundraiser, with her own personal involvement with the cancer centre driving her desire to do more.
"I did the Sunshine Walk last year when my husband, Bill, was diagnosed with prostate cancer," she said.
"While he came through that treatment ok, he had this terrible cough that would come and go for years, and no one could find what was causing it.
"At his last test results for the prostate cancer, Bill's oncologist Dr Craig MacLeod asked if he would mind if he looked into why he had this cough, and sent him off for scans.
"What they found was a massive tumour in his bowel."
Mr Orr underwent surgery to remove the tumour on August 11 and requires no further treatment.
He no longer suffers from the cough that plagued him for years.
Mrs Orr said if it wasn't for Dr MacLeod and the Albury Wodonga Regional Cancer Centre, the outcome could have been very different.
"I feel indebted to Dr MacLeod," she said.
"He could have told us that everything was right with Bill's prostate, sent us home and we might have only found out about the bowel cancer when it was too late.
"Also having the cancer centre and all the facilities here was just wonderful.
"Bill had 38 treatments, so if the cancer centre wasn't here we would've had to stayed in Melbourne which would have been terribly disruptive."
Mrs Orr completed the 5km walk last year, just six weeks after having a pace maker installed.
This year she plans to walk 10km with the Hearts of Howlong team.
If she achieves her fundraising target of $5000, Mrs Orr plans to shave her head on the day of the walk.
Anyone wishing to support Mrs Orr can click here