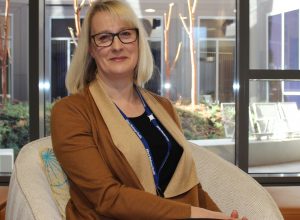 New counselling service for cancer patients
Donations made to the Albury Wodonga Regional Cancer Centre Trust Fund have helped fund a new counselling service for cancer patients and their carers.
The Trust Fund has committed $200,000 over three years to the service aimed at providing psychological and emotional support to those across the region impacted by cancer.
Clinical and Health Psychologist Dr Anne-Marie Daw has been appointed to the role and has significant experience in the provision of psychology services in a health care setting as the former Clinical Leader of Psychology at Northern Health.
"Being diagnosed with cancer, undergoing cancer treatment and cancer survivorship can present significant emotional and psychological challenges for many patients and their families," Dr Daw said.
"Fear of cancer recurrence, anxiety, depression, pain, sleep difficulties, changes in body image and the cancer's impact on significant others are experiences shared by many patients.
"Working alongside the Albury Wodonga Regional Cancer Centre, Wellness Centre team and with social workers, specialist nursing and medical staff, the clinical psychology service will provide individual and group therapies and interventions to enhance emotional adjustment, reduce distress as well as treat depression and anxiety for cancer patients."
Trust Fund secretary Geoff Smith said the Trust was pleased to be able to support the service and help address a need for oncology counselling in the community.
"Since its opening in November 2016, the cancer centre has continued to grow and now treats on average 250 patients a day," he said.
"In addition to the wonderful treatment and care already being offered at the centre, we are pleased to be able to fund this new service as further support for patients and their carers.
"The Trust Fund supports a range of wellness and supportive care programs through the Wellness Centre, including massage, mindfulness and cancer support groups."
Rutherglen's Cristy Jacka has thrown her support behind the service after supporting her late husband, Border sporting identity Karl Jacka, through cancer in 2016-17.
She was also heavily involved with fundraising efforts by the Rutherglen Cats which has raised more than $100,000 for services and programs offered through the Wellness Centre.
"It's great to see that this money will go towards a resource which will be of huge benefit to a lot of people in our community," she said.
Not all patients need psychology interventions and are encouraged to take advantage of support networks available to them in their community, including friends and family or sporting groups, as well as programs offered through the Wellness Centre such as mindfulness, massage and art relaxation.
These patients will be assisted to access the most appropriate psychological or supportive counselling option to meet their needs within the community.
For further information about the access requirements or other supportive care programs, please contact the Wellness Centre on (02) 6064 1562.