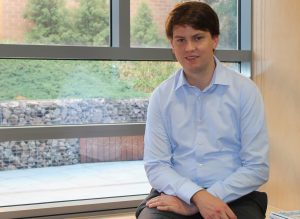 New doctor joins oncology team
A growing number of cancer patients has seen the employment of a fifth oncologist at the Albury Wodonga Regional Cancer Centre.
Dr Brett Hamilton has joined the team at Border Medical Oncology, helping to provide specialist medical oncology and haematology services to patients from across North East Victoria and southern NSW.
Border Medical Oncology Associate, Dr Craig Underhill, said the service was becoming busier with a growing regional population.
"Our patients are surviving longer and are needing to be looked after," he said.
"In 2018 we saw almost 1500 new patients. We are delighted that Dr Hamilton has joined our service to help us better serve our patients."
Dr Hamilton grew up in Perth and completed a Bachelor of Science at the University of Western Australia, majoring in pharmacology and microbiologist.
He then undertook honours by research with the School of Pharmacology before changing career paths to medicine.
He completed his medical degree with Monash University in 2011 and then completed specialist training in Sydney.
Subsequently he completed a fellowship combining tertiary clinical experience at Chris O'Brien Lifehouse with regional experience at the Alan Coates Cancer Centre in Dubbo.
"I am excited to have commenced practice with the team at Border Medical Oncology, following my career long interest in rural/regional medicine," Dr Hamilton said.
"Outside of medicine, I enjoy a touch of gardening, astronomy and some amateur photography."
Dr Hamilton joins medical oncologists Dr Kerrie Clarke, Dr Richard Eek, Dr Christopher Steer and Dr Craig Underhill, as well as haematologist Dr Anish Puliyali who joined the service late last year.