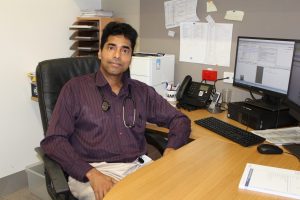 New haematology service on the Border
Border blood cancer sufferers will no longer have to travel to Melbourne for treatment following the appointment of the region's first haematologist.
Dr Anish Puliyayil has joined the team at Border Medical Oncology and is seeing patients at the Albury Wodonga Regional Cancer Centre.
He previously worked as a haematology fellow in Vancouver and more recently, as a haematologist at the Alfred Hospital.
Dr Puliyayil is available to treat blood cancers such as myeloma, lymphoma, leukemia and myeloproliferative disorders.
He also specialises in myelodysplastic syndrome and stem cell transplantation.
Figures compiled by Border Medical Oncology show 242 new haematology patients were seen in 2017, compared to 186 just five years earlier.
Patient numbers continue to rise in 2018 with 263 new cancer patients being seen to November.
Oncologist Dr Craig Underhill said Dr Puliyayil's appointment was the first step in developing a haematology service on the Border, in partnership with the Peter MacCallum Cancer Institute.
It is hoped a second haematologist can be appointed in the near future.