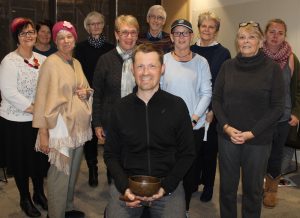 New program helping patients relax
A new evidence-based mindfulness program is helping patients of the Albury Wodonga Regional Cancer Centre better manage the challenges they face.
Jointly funded by the Albury Wodonga Regional Cancer Centre Trust Fund and Rotary Club of Albury, the Mindfulness Based Stress Reduction Program aims to help patients relax and focus their mind.
"Research has shown that mindfulness-based stress reduction increases the ability to better manage both short and long-term stressful situations, such as those faced by cancer patients and their carers," facilitator, Ben Engel, said.
"We see reductions in pain levels and an enhanced ability to cope with pain that persists.
"Participants also find new ways of relating to their minds and bodies, which leads to improved self-esteem, an increased ability to relax, and a greater appreciation for life."
Thurgoona's Pat Meehan said the course was helping her to become a much "calmer" person.
"You can get very fixated on the illness and the bad things that happen, so this is good in helping you learn how to focus on other things," she said.
Trust Fund chairman Grant Luff said the charity was pleased to be able to support the program with a $17,000 grant.
"This has been made possible only through donations from the community, and we thank everyone for their ongoing support," he said.
The eight-week course will be offered to cancer patients twice a year and to carers annually for $40 per person.
For further information, contact the Wellness Centre on (02) 6064 1562.