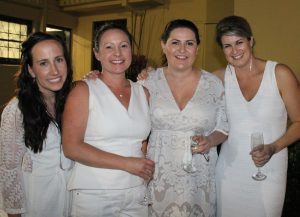 New secret location for Night in White
A Night in White will be held on the Border again this November, but exactly where guests will be taken as part of the cancer centre fundraiser will continue to be a mystery.
Inspired by the world-famous secret dinner party phenomenon, Diner en Blanc, a Night in White requires all guests to be dressed in white for an al fresco dinner at a mystery location.
The Trust Fund event also adopts Diner en Blanc tradition where guests bring their own tableware, including cutlery and crockery, and a gourmet meal.
There is also the option of pre-purchasing a picnic hamper from Casa Deli.
The party will be held from 6.30pm on Saturday, November 24 and raise money for the Albury Wodonga Regional Cancer Centre Trust Fund.
"We're hoping to have about 150 people immaculately dressed in white meet at QEII Square, Albury before descending on the secret location," Trust Chairman Grant Luff said.
"Last year we lead our guests around to Kiewa St for a fabulous garden party at The Albury Club.
"This year will be a little bit different in that Dysons Bus Group has generously offered to transport our guests to the new secret location outside of the central business district."
Live entertainment will be provided by Toucan Rock, and there will also be a silent auction and lucky door prizes.
"It is being held close to the festive season so would be a perfect for a family or work Christmas party with a difference," Mr Luff said.
Diner en Blanc (Dinner in White) began in Paris in 1988 when Francois Pasquier returned home from a long trip abroad and wanted to hold a dinner party to reconnect with his friends.
As the guest list grew, he decided to hold the dinner in a park and asked everyone to dress in white so they could easily find each other.
Diner en Blanc has now spread to more than 70 countries with close to 120,000 people participating each year.
Cost of the Albury Night in White is $50 per person.
Tickets are available by clicking here