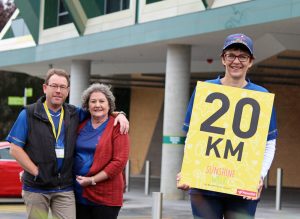 Plans proceeding for Sunshine Walk
Despite uncertainly surrounding COVID-19, plans are still proceeding for the Sunshine Walk this year.
The signature fundraising event for the Albury Wodonga Regional Cancer Centre Trust Fund will be held in Albury on Sunday, November 22 with options of 5km, 10km and 20km walk distances.
While it is hoped social restrictions will be eased in time for the event, Trust Fund Manager Kristy McMahon said all options are being explored to ensure it still goes ahead in some format.
"With Melbourne in the grips of the COVID crisis, there's an even greater need to do everything we can to ensure regional people can receive their cancer treatment locally," she said.
"We are continuing to monitor the situation closely and would like to assure our community that even if we can't all gather in the one place, the event will still go ahead in some form.
"We are working on contingency plans, like live-streaming our opening ceremony before walkers set off on their own socially-distanced route.
"We hope this won't be necessary, but want to assure everyone that there is no need to put off the decision to register."
Walkers will continue to be updated via email and social media.
The Sunshine Walk was held for the first time last year and saw about 1000 walkers help raise more than $200,000 for the Albury Wodonga Regional Cancer Centre Trust Fund.
Everyone who registers is invited to take part in online gentle exercise classes provided twice a week by our sponsors, Healthfocus Physiotherapy, to help participants keep fit, whilst still observing social distancing measures, so they will be ready to tackle the walk.
Walkers are also encouraged to share their fitness journeys and inspirational stories on social media via the Sunshine Walk Facebook and Instagram pages, or on their personal fundraising page on the Sunshine Walk website.
For further information or to register, click here