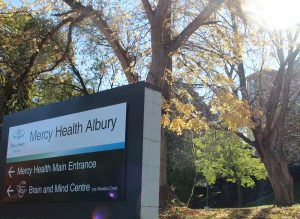 Push to improve palliative care
A more coordinated and integrated palliative care service is being sought for Albury-Wodonga and surrounding areas after the existing model was found to be "disjointed", "confusing" and "lacking clear focus".
The Albury Wodonga Cancer Foundation is calling for palliative care services to be overseen by Albury Wodonga Health, with funding support from both NSW and Victorian governments.
Mercy Health Albury would still play a key role under the proposal, offering a minimum 12-bed palliative care impatient service in Albury, as well as community services in Southern Riverina towns including Corowa, Holbrook and Culcairn.
Albury Wodonga Heath would continue to provide palliative care services to Wodonga, Towong and Indigo shire residents.
Foundation spokesman, Geoff Smith, said the region's existing palliative care services are overseen by Murrumbidgee Local Area Health in NSW, and in Victoria, by East Hume Regional Health Services.
"They are run by very separate organisations that really have little to do with each other," he said.
"It's very confusing and disjointed, and lacks overall focus because there's no single party having responsibility for palliative care in the Albury Wodonga Health catchment area."
Mr Smith said a study undertaken by the foundation found that in some sectors, the number of patients accepted into palliative care was declining, despite an increase in demand.
"For a city of this size, this is really ridiculous," he said.
In its report, which was developed over the past three years, the foundation states that Mercy Health Albury provides a quality in-house palliative care service with its 10-bed hospice and specifically trained palliative care staff.
But in 2017, just 21 per cent of patients that were admitted to the service were from Victoria.
This is despite Victorian residents making up almost half of the population of the Albury Wodonga Health catchment area.
Mr Smith said an integrated palliative service overseen by Albury Wodonga Health would offer a more coordinated approach to providing care and support to patients across the region.
"We already have a model for integrated acute care for this region through Albury Wodonga Health," he said.
"Both NSW and Victorian governments contribute to that one health service, so what is stopping us from using that model to deliver palliative care?"
Key recommendations from Albury Wodonga Cancer Foundation:
Establish a board to govern palliative care across the Albury Wodonga Health region.
Transfer palliative care activities relating to governance, funding management of Mercy Health Albury from Murrumbidgee Health to Albury Wodonga Health.
Expand the catchment area of Mercy Health Albury to include towns in the Southern Riverina.
Relocate two palliative care beds at Albury Wodonga Health's Wodonga campus to Mercy Health Albury.
Engage additional full-time palliative care physicians in Albury-Wodonga.
Increase the number of palliative care volunteers.
Increase resources to service Victoria palliative care patients.