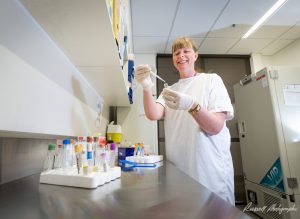 Research unit celebrates 20 years
Cancer research conducted on the Border has helped shape the treatment of patients Australia-wide for more than 20 years.
It includes participation in a ground-breaking clinical trial that saw Herceptin become part of the standard treatment for patients with breast cancer.
Jacqui McBurnie, who has been part of the research team for 15 years, said she felt privileged to be able to play such a vital role in the fight against cancer.
"We get to see these new treatments come through and the impact it's making on patients and their lives," she said.
"It may not just be giving patients extra time, but it's giving them hope and quality of life as well."
The Border Medical Oncology Research Unit recently celebrated its 20th anniversary, having participated in more than 350 clinical trials involving about 1800 patients since its beginning.
It was founded by oncologist, Dr Craig Underhill, who in 1998 won a $10,000 government grant to establish the facility, with just one part-time research nurse, at the Albury Base Hospital.
With the help of sponsorship, government funding and donations, the unit has grown to employ a total of 19 staff including four oncologists, a haematologist and eight part-time research nurses, who are based at the cancer centre.
The unit is currently participating in 64 trials which involve a wide range of cancers including haematological malignancies, ovarian, prostate, pancreatic and renal cancers, as well as melanoma.
One of the highlights for Mrs McBurnie during her time with the unit has been a breast cancer trial involving Herceptin, which has proven to significantly reduce the risk of cancer returning.
"I still remember women having to mortgage their houses to try and get access to the drug," she said.
"But now it's standard treatment for women with breast cancer."
Business Manager, Fiona Tuthill, said having clinical trials offered locally were invaluable as they gave patients the opportunity to participate in cancer research that will impact future cancer treatments.
"It's all about keeping patients at home during their treatment," she said.
"By having access to cancer clinical trials locally, it means patients don't have to travel and still have access to the best treatment and research available."