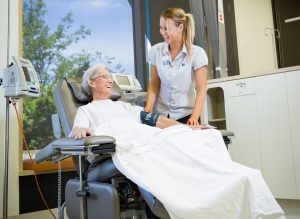 Scholarship launched to upskill staff
A new nursing scholarship program is helping strengthen the pool of specially trained oncology nurses at the Albury Wodonga Regional Cancer Centre.
The Albury Wodonga Regional Cancer Centre Trust Fund is offering scholarships of $5000, $8000 or $10,000 per year for staff members to complete post graduate degrees in oncology.
Trust Fund chairperson, Michelle Hensel, said the program aimed to improve the skill, capacity and scope of practice of oncology nursing staff within the cancer centre.
"Feedback we've received from the operators within the cancer centre is that it's a priority to support nursing staff to grow their skills and capability," she said.
"And while we may have staff already here who wish to further their study, the appropriate courses can be financially inhibitive to undertake.
"What we are looking to offer through the Trust is to provide assistance to two to four nursing staff per year the opportunity to develop their skills.
"We hope this will enhance the wonderful service already being provided at the cancer centre and improve outcomes for patients."
The Border Cancer Hospital Assistant Director of Clinical Services, Joan Schroen, said the scholarships were recognition of the Trust's commitment to ensuring nurses within the Hume region have similar opportunities to those working in metropolitan areas.
"The Trust Fund's collaboration with Ramsay Health Care's The Border Cancer Hospital in providing a learning environment in which gold standard treatment and care is provided is commended and will benefit many patients and their families as well as I am sure, be graciously taken up by our nurses," she said.
"The generosity of these scholarships also reflect the support our community have for the cancer centre service."
GenesisCare Radiotherapy Centre Albury Wodonga Centre Leader, Paula Fraser, thanked the community for its generous support.
"Providing regional nurses with the means to undertake post graduate oncology studies is a remarkable opportunity, and will not only benefit our valuable nursing workforce, but cancer patients and their carers themselves," she said.
The Trust Fund has committed to spending $20,000 per year on the scholarship program.
Nurses who apply for the scholarship are asked to commit to working at the cancer centre for at least two years after completing the course.
Further information is available at awcancertrust.org.au