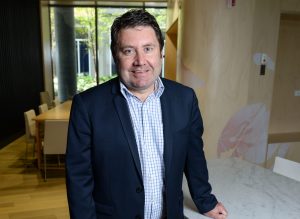 Survival rates on the rise
New treatments and improved access to care are helping drive up cancer survival rates on the Border, according to oncologist Dr Craig Underhill.
Latest figures compiled by Border Medical Oncology reveal that while the incidence of cancer continues to rise, the number of deaths recorded within the first year of diagnosis have declined.
In 2017, a total of 1056 people were diagnosed with cancer, however there were just 225 deaths of new patients within the 12 month period.
This is compared to 2012 when there were 830 new cases and a total of 352 early deaths.
Dr Underhill, the Director of Cancer Services at Albury Wodonga Health, said figures were also shaping up to be extremely positive for 2018, with 1045 new cases and just 72 early deaths to November.
"You get a sense that something pretty big going on," he said.
"People who are being diagnosed now are certainly living longer than they were even five years ago."
Dr Underhill said one of the major areas of improvement was in lung cancer, where the number of deaths recorded by Border Medical Oncology fell from 85 in 2012 to just 55 in 2017.
This is despite a spike in the number of new patients from 115 to 141 over the five-year period.
"Lung cancer has been one of our worst cancers with the worst outcomes," Dr Underhill said.
"But we're living in a revolution with the advent of new treatments, new immunotherapy drugs and target therapies, and we can certainly see that.
"The other thing that's making a difference locally is having access to the proper equipment.
"The new eBUS funded by the Trust has made a huge difference and is almost certainly saving lives."
In a first for regional Victoria, specialist endoscopic gear known as an eBUS was purchased in 2017 to diagnose lung and upper gastrointestinal tract cancers at the Wodonga Hospital.
The $175,000 piece of equipment was funded by the Trust using community and corporate donations.
Dr Underhill said it was "amazing" what had been achieved in only a few short years.
"But we will need ongoing (financial) help with research projects, education of staff, the Wellness Centre and new equipment, some of which we can't even imagine at the moment what it might be," he said.