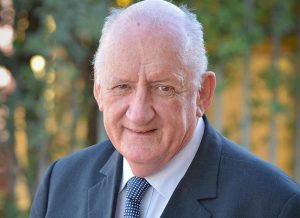 Tim Fischer pledges support for fundraiser
Former Deputy Prime Minister Tim Fischer has thrown his support behind the Albury Wodonga Regional Cancer Centre's major fundraising campaign, Sunshine Week.
Mr Fischer is a patient of the cancer centre having battled the rare blood disorder, MDS or Myelodysplastic syndrome RAEB 1.
He is now in full remission, with chemotherapy continuing, and largely attributes this to what he refers to as the "jewel" in the Border health care network.
"In a very short time, the Albury Wodonga Regional Cancer Centre established itself as a hub of excellence for the region, with patients travelling from Mansfield and Mt Beauty in the south, Wagga and Tarcutta in the north, even Deniliquin in the west," he said.
"The professionalism and compassion shown by specialists, staff of all levels and also the many volunteers make it a place of modern discerning practice, and one we all should be very proud of."
But Mr Fischer said demands on the oncology team has never been higher and that more community support than ever was needed.
"An average of 250 patients a day now use the cancer centre which is a 25 per cent increase on last year alone," he said.
"Life expectancy of cancer patients is increasing, and more and more people from our region are choosing to have their treatment close to home.
"Both factors mean a great deal more pressure on our medical professionals and the available resources."
Mr Fischer said one way people could help was to get behind Sunshine Week, from September 15 to 22.
"Community support has done much to date, but still so much more is needed," he said.
"This is something that everyone can do to help make a difference."
For further information click here