Latest news and events
LAKE HUME CYCLE CHALLENGE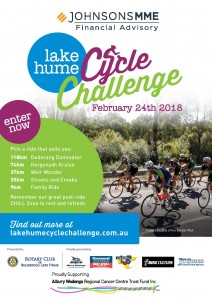 The 2018 Johnsons MME Lake Hume Cycle Challenge to be held on Saturday, February 24 will offer rides for all ages and fitness levels.
The start and finish will be at the Wodonga Racecourse this year and from 10.30am, as riders begin to return, the Chill Zone will allow them to rest and revive.
Proceeds will go to the Albury Wodonga Regional Cancer Centre Trust Fund and Border Trust.
For further information click here
---
SHINE NEWSLETTER
The Summer 2017-2018 edition of our Shine newsletter is out now!


This is a quarterly publication of the Albury Wodonga Regional Cancer Centre Trust Fund. Please call (02) 6064 1538 or email [email protected] if you would like a hard copy sent in the post.
---
CANCER CENTRE NEEDS YOUR SUPPORT
With the Albury Wodonga Regional Cancer Centre up and running, the trust fund needs your support now more than ever.
Money donated to the trust fund will be used to pay for research, training and equipment not funded by the government, including services provided at the Wellness Centre.
Chairman Grant Luff said the $65 million centre has united cancer services under one roof, offering a place to educate, support, research, diagnose and treat all forms of cancer.
But to ensure it remains a first class, proactive and formidable facility, we must continue to source and manage extra funding within the community.
"Even though we've managed to get the funds to build the facility, the real challenge starts now and that is getting the best out of the facility," Mr Luff said.
"That's a real challenge because that invariably takes money and that money isn't necessarily available from the government."
Three years after the trust fund was formed, more than $1 million has been donated to the cancer centre.
Mr Luff said part of that funding has already been committed to staffing and fitting out the Wellness Centre, as well as purchasing new equipment to be able to diagnose lung cancer.
He acknowledged the efforts of the community, from individuals to schools, and businesses to community groups, in raising the funds.
"Whether or not it's been $50, $100 or $5000, there's just people, clubs and groups in the community that are doing whatever they can to put some money into the trust fund," he said.
"It's the community doing what the community can do to ensure this centre prospers, and we can't thank them enough for that."
To donate to the trust fund, please click here
---