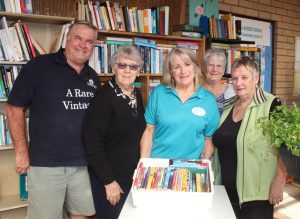 Awareness group leaves lasting legacy
ALTHOUGH the Border Ovarian Cancer Awareness Group has officially come to an end, its legacy will live on through an ongoing fundraiser at the Wodonga Plant Farm.
A popular second-hand book stall at the Huon Creek Road business will continue to operate, with money raised going towards the Kelsey Watts Memorial Ovarian Cancer Research Grant at the Albury Wodonga Regional Cancer Centre.
In winding up its books, the group also made a $14,550 donation towards the grant to support local ovarian cancer clinical trials.
The donation takes the group's total fundraising efforts for the cancer centre to almost $170,000 over 10 years.
Outgoing president, Heather Watts, who founded the group after her daughter Kelsey lost a three-year battle with ovarian cancer in 2011, said she was proud of what they have been able to achieve.
"It's been a lot of hard work in 10 years, but even if we've been able to help just one person, then it's been worth it," she said.
The group's activities have included teal undies on the Lincoln Causeway, and the Wodonga Turf Club's Kelsey Watts Memorial Race featuring blow up horses.