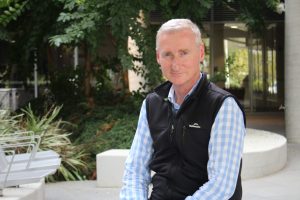 Oncologists achieve
"

professor

"

status
BORDER oncologists, Christopher Steer and Craig Underhill, have been awarded the title of "professor" in recognition of their roles in teaching, advocacy and research.
Associate Professor Steer and Conjoint Associate Professor Underhill were successful in undertaking the promotion process at the University of NSW, which has a rural clinical campus at Albury Wodonga Health.
Latrobe University also awarded both doctors "Adjunct Professor" status at its Rural Health School in recognition of their professional and academic status.
Prof Steer said it was an honour to receive the titles in recognition of many years of supporting education and research in the Albury-Wodonga region.
"It is my strong view that we cannot practice medical oncology without access to clinical research," he said.
"Patients should always be asking their doctors, 'What trials do you have for me?'."
Prof Underhill agreed that it was an honour to be recognised, and hoped it might inspire others working in the field.
"I think that it is important for trainee doctors to see that moving to regional Australia need not be a barrier to doing research," he said.
"We thank our partners, families and work colleagues for their support, and all the patients and their families for agreeing to participate in research.
"Without them we could not have achieved this. "
Prof Steer is a national and international expert in the care of older adults with cancer, and is working with Professor Irene Blackberry of Latrobe University's John Richards Centre for Rural Ageing Research to conduct important research in this field.
This project is part of the ReViTALISE project, led by Professor Underhill, which is a five-year program funded by the Medical Research Future Fund to improve outcomes for Regional Australians with Cancer.
Both professors work with Border Medical Oncology Research Unit within the Albury Wodonga Regional Cancer Centre.
The unit has won many accolades and brings cutting edge cancer trials to the region in a broad range of cancers.
Prof Underhill said cancer survival rates continued to improve, and research was a critical part of improving outcomes.