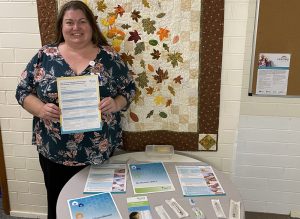 Extra support for palliative care patients
Families caring for palliative care patients at home will have a little extra help thanks a new resource package funded by the Albury Wodonga Regional Cancer Centre Trust Fund.
Some 200 Carer at Home Packs will be developed to provide to Albury Wodonga Health community palliative care clients who require a syringe driver at home for end of life care.
Manager Palliative Care, Rebekah Clutterbuck, said syringe drivers are often required to provide continuous medication to palliative clients to enable them to stay at home.
"Syringe drivers can be used to provide medication to control symptoms such as pain, nausea, and vomiting," she said.
"However, the provision and use of a syringe driver can lead to confusion, anxiety and financial distress in carers of palliative clients with no hands-on education provided and no provision of written instructions and the consumables required for their use."
The palliative care team provides about 130 packs a year to families.
Funding of $6000 will cover the cost of information sheets and consumables used with syringe drivers.
It will also pay for an education kit, including a reusable injection belly, to teach carers how to inject into a butterfly needle at home.
The money provided for the grant was raised through funeral donations in memory of Jacinta Furst, who passed away at her Wodonga home in July 2021.
Her daughter, Gabrielle Furst, said the family was grateful for the "amazing support" the cancer centre and palliative care team provided over the years.
"We asked for donations in lieu of flowers as a way of giving back to the staff who helped us so much, and to help others who are caring for a loved one at home," she said.
"We think this is a great way to honour our mother and ensure that her legacy continues to live on."
Anyone wishing to create an in-memory page can click here