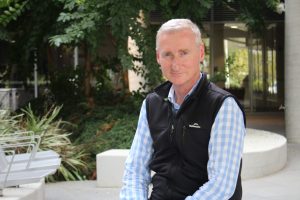 A world-first project that uses photos to learn about a patient's identity and environment is being trialled at the Albury Wodonga Regional Cancer Centre.
The Border Medical Oncology Research Unit has teamed up with the La Trobe University John Richards Centre for Rural Ageing Research to run the study aimed at improving the supportive care of patients aged over 70 years.
The Geriatric Oncology in the Instagram Era project has received a $20,000 grant from the Albury Wodonga Regional Cancer Centre Trust Fund, with half of that funding coming from the estate of cancer patient, Lorraine Dick.
Oncologist Dr Christopher Steer said study participants will be asked to supply four photos that best represent their identity, home environment, what's important to them and their mode of transport.
The photos will then be used to interview the patient about their priorities, barriers and amount of support available to them to help tailor a care management plan that best supports their individual needs.
Dr Steer believes this type of geriatric assessment has never been done in oncology before.
"Photos have become a really easy way of communicating, and we want to use that as a way of getting to know our patients better and enhancing their supportive care," he said.
"Research has shown that geriatric assessment makes supportive care more age-specific, improves communication about age-related concerns, reduces treatment toxicity and improves quality of life."
Dr Steer said about half of the patients seen at Border Medical Oncology were aged 70 or older, which equates to some 800 new patients a year.
About 20 patients will be recruited for the study.
The research will be conducted over 30 weeks with the final report due in October.
The project builds on a previous study undertaken by the research unit, and funded by the Trust Fund, which used an electronic survey to assess patients over 70.
The findings involving 50 patients at the cancer centre have been presented to industry leaders Australia and world-wide.
This and the latest research will also feed in to the ReViTALISE program, overseen by the BMO research unit, which was recently granted $18.6 million in Federal Government funding over five years.
Dr Steer and Chair of La Trobe's John Richards Centre for Rural Ageing Research, Prof Irene Blackberry, are overseeing geriatric oncology research as part of that project as well.