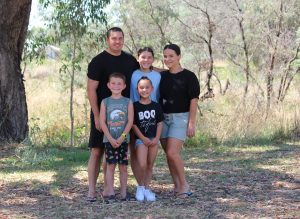 Treatment close to home a
"

blessing

"
For Sam Williams, one of the worst parts of a cancer diagnoses was the disruption she thought it would cause for her kids.
But learning she could receive almost all of her treatment just five minutes from home, at the Albury Wodonga Regional Cancer Centre, was the "biggest blessing" she could receive.
"Last year when I was diagnosed with cervical cancer, my main concern was that I would have to go to Melbourne and leave my kids," she said.
"I was more worried about how I was going to manage the kids and our finances than what I was my own health.
"When I found out I could have my treatment here, it was so much more convenient and made the whole process so much easier.
"I'd pop out, have radiation done and then go to work, and be home with my kids and in my own bed every night."
Ms Williams, 33, was diagnosed with cervical cancer following a routine pap smear in March 2020.
Initially the Thurgoona mum was told she would need to be in Melbourne for treatment over eight weeks.
That later changed to six weeks at the cancer centre and just two in the capital city.
Ms Williams was required to have daily radiation and chemotherapy once a week to treat a 6cm tumour on her cervix.
She said after going to the cancer centre for a while, the people at the door knew her name and greeted her when she came in.
"The nurses and staff all knew your name and you were made to feel really comfortable," she said.
"It does become your second home when you're going there every day for six weeks."
Throughout her treatment, Ms Williams was still able to get her three children off to school and to continue her work in public health.
She was given the all clear at the end of last year.
Following her treatment in November, Ms Williams took part in the Sunshine Walk raising money for the Albury Wodonga Regional Cancer Centre Trust Fund.
Her team, "Sammy's Superstars", was convened by friend Simone Russell and included members of Ms Williams' family from Narrandera and surrounds.
Together they raised $2250 with the hope of raising more for the event this year.
Ms Williams said her experience with cervical cancer was also an important reminder for women to have regular pap smears, and for all young people to have the HPV vaccination.