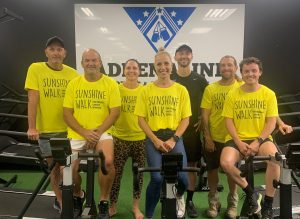 Gym goers set to pedal day and night
A group of dedicated gym-goers is gearing up for a gruelling 24-hour bike ride in support of the Albury Wodonga Regional Cancer Centre Trust Fund.
Adrenaline Boxing and Conditioning will host the Sunshine Ride at its Olive St, Albury gym on Friday, May 14 from 6pm.
Six stationary bikes will be set up for teams of five to pedal around the clock, while a seventh bike will be available for anyone who wants to book a one-hour session.
Organising committee member, Liam Forrest, is hoping the ride will raise at least $20,000 through sponsorship and donations.
"Everyone involved in organising this event actually met at the gym, and we've all been either directly or indirectly impacted by cancer," he said.
"Some people who go through cancer can suffer for years, or a lifetime even, so if we can do it tough for 24 hours on a bike to help them out, it's the least we can do."
Steven Ballard, who is also on the organising committee, said he will ride in honour of his wife and breast cancer survivor, Debbie.
"Personally, it means a lot to me," he said.
"Deb was diagnosed and had a mastectomy about two years ago and we were grateful that she didn't have to go to Melbourne for her treatment.
"So there is a lot behind why we want to support the local cancer centre."
In preparation for the ride, Mr Forrest said the organising committee had begun introducing more cycling into their usual exercise routine.
But even with a good level of fitness, he believes pedalling through the night will be tough for even the fittest of team members.
"We're all pretty fit in our own way, but it will not only be physically challenging, but mentally challenging as well," he said.
"Especially between 2am and 6am, it will be pretty tough to fight sleep. But as long as we can all get around each other, I think we'll be able to get through it."
Keep an eye out on Adrenaline Boxing and Conditioning's social media pages for further updates or to make a donation click here
For further information, contact Liam Forrest on 0439 503 903 or email [email protected]