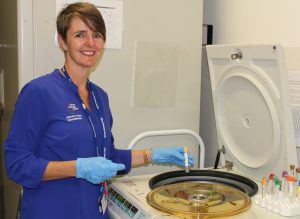 Nurse upskilled thanks to scholarship program
Nurse Nicole Webb has advanced her skills in supportive cancer care following a scholarship from the Albury Wodonga Regional Cancer Centre Trust Fund.
Ms Webb, a cancer care coordinator and research nurse, was awarded an $18,000 scholarship over two years to study Master of Cancer Sciences through the University of Melbourne.
After finishing last year, Ms Webb said the course helped increase both her confidence in her work, and passion around ensuring rural patients receive the supportive care they need.
"Key learnings for me included developing my understanding around tumour markers and treatment, the latest understanding of the impact of exercise in the cancer domain and learning about cancer disparities," she said.
"I was also able to learn how to better assist patients from a supportive care perspective, particularly high risk patients with limited support, and the complexity of caring for older cancer patients."
Ms Webb said another highlight was the focus on communication skills, which is vital in her line of work.
The course also allowed Ms Webb to learn alongside a wide range of clinicians, including pharmacists, physiotherapists, oncologists and nurses.
The Masters course consisted of core subjects in foundations of cancer, cancer research and research thesis, as well as elective subjects which she was able to select to complement her work at the cancer centre.
These were psychosocial oncology, supportive care and palliative care, cancer in society and cancer therapeutics.
Ms Webb said although she was least enthusiastic about the research component of her course, this is where her learning really "ramped up".
"I was able to further develop skills such as completing a literature review and developing a nurse survey on barriers to supportive care screening, which I piloted on a small group of nurses," she said.
"I really enjoyed learning from my two supervisors, who both have a special interest in supportive care in oncology, and who I will be able to network with into the future."
The scholarship awarded to Ms Webb was made possible through community donations, including funds raised at the 2019 Berringa Community Morning Tea.
Ms Webb said she felt "grateful and privileged" to have been given the opportunity to undertake further study.
"I'm looking forward to continuing to grow and further develop my skills, which I hope will directly benefit the patients here at the cancer centre," she said.