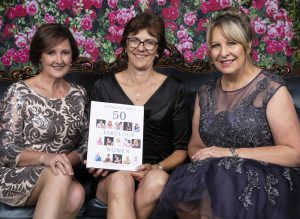 Donna grateful for access to latest treatment
Donna Probyn was given just months to live when it was found that a melanoma she had removed in her 20s, had returned some two decades later.
The mole, which had been rubbing and bleeding on her shirt, had been cut from the right side of her neck, followed by a lymph node dissection.
She required no further treatment for more than 20 years before she noticed a lump on the left side of her neck above her collarbone.
Ms Probyn was informed she had stage three melanoma and underwent radiation and a gruelling six months of treatment.
For a short time, she was given the all-clear before she had to have fluid removed from her lungs.
Scans revealed that the cancer had spread to her liver and left side of her lung.
"Going from stage three to stage four, advanced cancer, is a scary place to be," Ms Probyn, a mother of two, said.
"This is when you are faced with the reality of end-of-life planning."
Speaking at the launch of the 50 Fabulous Women book in November, Ms Probyn announced that through her treatment at the Albury Wodonga Regional Cancer Centre she was now in remission.
"I am extremely grateful for the research and advancements in treatment of melanoma," she said.
"Without access to the most recent melanoma drug treatment, I would not be here today."
Ms Probyn is one of 50 inspirational women to feature in the book, designed to raise money for the Albury Wodonga Regional Cancer Centre Trust Fund.