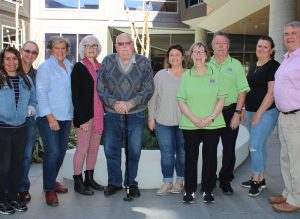 From Jindera to Mt Beauty, and Myrtleford to Henty, the Albury Wodonga Regional Cancer Centre Trust Fund now has community advocates based in towns throughout the region.
The Cancer Pals program launched at the cancer centre in September appointed 15 volunteer community advocates who will help support the work of the Trust Fund in their hometowns.
Trust Fund Manager, Kristy McMahon, said all of the Cancer Pals appointed were passionate about improving cancer services for their local community.
"Our volunteers all have a strong knowledge of the workings of the Trust Fund and will serve as a link between us and their communities," she said.
"We're really excited to have them on-board and think they will do a great job representing the Trust in our regional areas."
Jeanie Farrington, who has a background in health and palliative care, has signed up as a Cancer Pal in her hometown of Mt Beauty.
"I've always had a keen interest in supporting local cancer services," she said.
"My mother died of pancreatic cancer and now my niece has got breast cancer; it touches everyone and I just feel like I would like to be connected to this amazing group and see what I can do to help."
Howlong's Regan Lions is currently a patient of the cancer centre and said it was and "amazing facility".
"Having the centre here that you can come to which is local, everything's here in the one spot that you need, and it just makes life so much easier," she said.
"The centre has helped me through my journey so much over the last 18 months, I just want to do what I can to give back."
Volunteer John Oswald and his partner Liezl Cutler host monthly fundraising barbecues at Dan Murphy's Albury for the cancer centre, but were keen to see if there was anything more they could do to help.
They have both signed up as Cancer Pals for Albury.
"It's good to do work for the community, but it also makes me feel better to be able to help the community," Mr Oswald said.
"If we're able to do something small like give up a day every now and again to help the Border community, that's pretty good."
Cancer Pals by town
Albury – John Oswald and Liezl Cutler, Bree Cross
Corryong – Richard Hubbard
Henty – Kevin Fogarty
Holbrook – Rick Murphy
Howlong – Regan Lions
Jindera – Denise Knight, Pat Hayes
Mt Beauty – Jeanie Farrington
Myrtleford – Francis Barton
Talgarno – Julie de Hennin
Thurgoona – Liz and Ian Crane
Wodonga – Carleen Wright