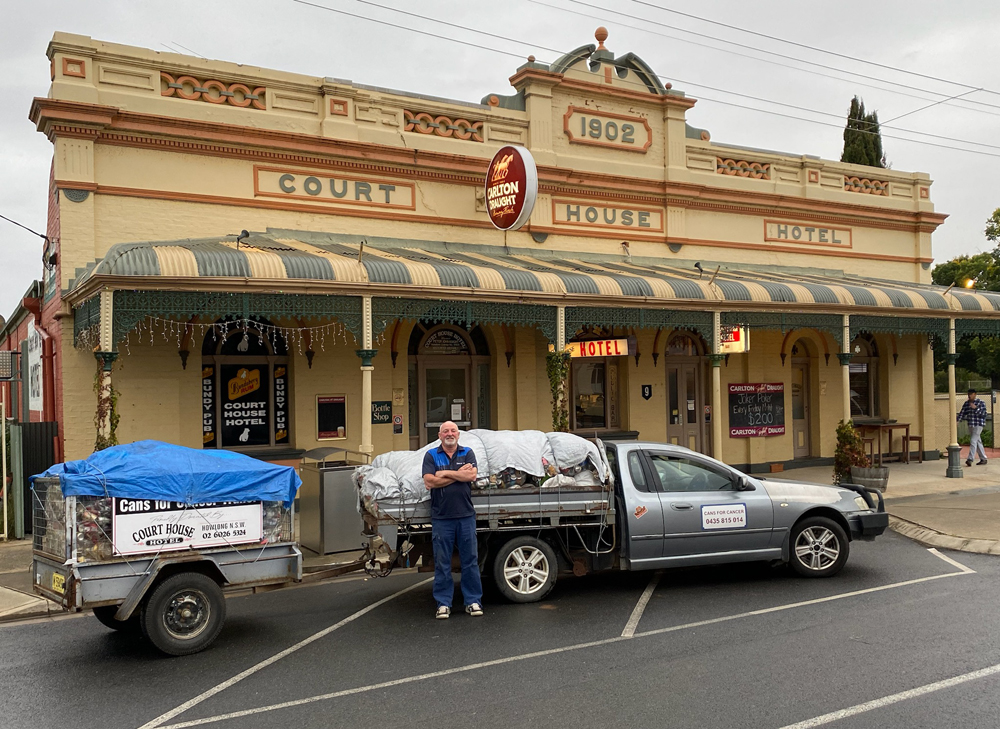 Easy way you
"

can

"

make a difference
TRASH is being turned into treasure by generous individuals who are collecting recyclable cans and bottles to raise money for the Albury Wodonga Regional Cancer Centre Trust Fund.
Nine years after starting Cans for Cancer, Albury couple John and Sharyn Waldron have decided to scale back their volunteer work which has raised almost $150,000 for charities including the Trust Fund.
Their collections have been taken over by Wayne Lamb, of Howlong Cans 4 Cancer, as well as Kevin Allitt of Thurgoona, with all money raised going towards the cancer centre.
Although it was with sadness that the Waldrons decided to cease Cans for Cancer, Mrs Waldron said she was "extremely proud" of what they have been able to achieve.
"We started it after losing family members to cancer and thought we'd do it for a year and make a couple of hundred dollars," she said.
"We are so proud that the community supported what we wanted to do and that was to raise money and make a difference for people affected by cancer."
Since starting Howlong Cans for Cancer in 2019, Mr Lamb has raised more than $36,000 for the Albury Wodonga Regional Cancer Centre Trust Fund.
As well as regular pick-ups from Howlong homes and businesses, he will also now travel to Albury, Balldale, Jindera and Burrumbuttock to collect the 10 cent can and bottle refund.
"My wife's had cancer, and my mother-in-law and father-in-law, and they were all at the Albury Wodonga Regional Cancer Centre," Mr Lamb said.
"It's for a good cause and gives me something to do when I don't work."
As well as collecting cans throughout the year, Mr Allitt has run a Christmas light display at his home on McLaren Boulevard, Thurgoona for the past two years.
With the money donated by passers-by, Mr Allitt has raised almost $5000 for the cancer centre.
Donations can also be made through the Albury Return and Earn depot in Catherine Crescent, Lavington.
Anyone wishing to donate cans and bottles with the 10c refund label can contact Mr Lamb on 0435 815 014 or Mr Allitt on 0459 192 764, or message Albury Return and Earn on Facebook.