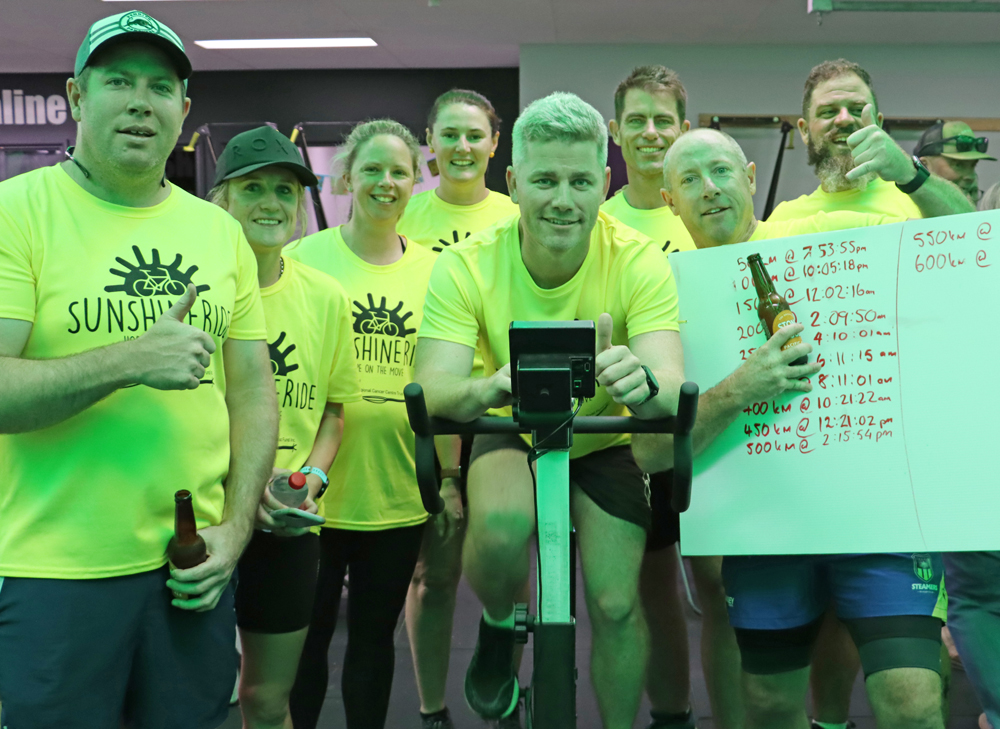 Sunshine Ride raises $113,000
DESPITE riding 24 hours and getting nowhere, the efforts of everyone involved in this year's Sunshine Ride will go a long way towards helping families in the Albury-Wodonga region impacted by cancer.
Held on March 17 and 18, the third annual Sunshine Ride raised more than $113,000 for the Albury Wodonga Regional Cancer Centre Trust Fund.
The event involved nine teams of more than 200 riders in Albury, Wodonga and Wagga.
At the conclusion of the 24-hour challenge, the fundraising tally had just tipped $92,000 with ride founder, Steve Ballard, congratulating everyone involved.
"That's a fantastic result and it couldn't happen without everyone making that sacrifice for the 24 hours, and we all know it's pretty tough," he said.
"But it's all worthwhile. You can see it's worthwhile, and we can see that in your faces."
Trust Fund Chair, Michelle Hensel, said all of the teams were engaged in the ride and determined to show their support for the cancer centre.
"They should be so proud because they've changed outcomes for cancer patients right here in our region," she said.
"Every cent raised is staying here – and it's not going to Melbourne or Sydney – and will go towards new facilities, services and research for families in our region affected by cancer."
For the first time, the ride this year featured gyms from both sides of the Border including Adrenaline Boxing and Conditioning, Fernwood Fitness and F45 in Albury, and PT Fitness in Wodonga.
Wagga gym, Planet Fitness, also joined the challenge for the first year, along with Albury health provider, O-health, and the Albury Thunder Rugby League Football Club.
Adrenaline Boxing and Conditioning took out the top spot on the team fundraising leader board with almost $70,000 raised.
Cancer survivor and Adrenaline team member, Mick Alexander, finished on top of the individual leader board having raised more than $15,000.
"It's been great to be involved this year and it's only going to get bigger and bigger," he said.
"We had seven bikes here (at Adrenaline) the first year, and this year there was 18.
"I was very fortunate to be so close to home and have the cancer centre pretty much on my doorstep.
"A lot of people travel to the centre and it's great to be able to support it in this way."
Riding as part of PT Fitness was Janet Ayton, who underwent treatment for breast cancer at the centre last year.
After going through surgery, chemotherapy and radiation, Mrs Ayton wasn't bothered by riding through the night with a team of about 12 others.
"Going through cancer changes your perspective a bit," she said.
"I said I would do the night stuff. You just sit on and ride, it's not that hard.
"It's only for a short time and you just keep going."
Organisers have announced the ride will go ahead again on March 15, 2024.