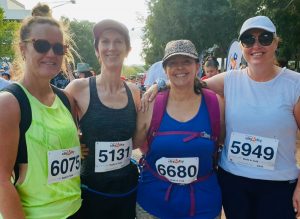 Lu laces up her walking boots for cancer
For many cancer patients, the opportunity to pack a bag and trek across one of the most beautiful places in the world can seem like nothing other than a dream.
That's why Albury radio host, Lu Pelizzari, is planning on doing just that, as way of honouring their battle and raising money for local cancer research.
Along with Kellie Kadaoui from Wildlime Events, Ms Pelizzari is organising a group of about 16 people to travel to Europe for a 12-day walk across Sicily.
As part of the 100km journey, Ms Pelizzari hopes to raise at least $30,000 to pay for a part-time research nurse to conduct ovarian cancer trials at the Albury Wodonga Regional Cancer Centre.
Ms Pelizzari said the walk, dubbed Lu's Dolce Vita, would be an "amazing cultural experience", as well as a life-changing event.
"People that are going through cancer treatment, it takes up every waking minute of their life in many cases and their families' as well," she said.
"They can't just go on a lovely walk somewhere and enjoy what the world has to offer.
"But we can do that and raise money at the same time.
"We kind of owe it to ourselves to do exciting things while we can and live our best life while we've got our health."
Ms Pelizzari, part of the Lu and Matt breakfast show on Triple M The Border, said the cause for ovarian cancer research in particular was one close to her heart, after a friend was diagnosed with the disease at 39.
She also became involved with the Border Ovarian Cancer Awareness Group, overseen by Heather Watts whose daughter Kelsey lost her battle with ovarian cancer in 2011 at just 33.
"That whole insidious cancer just really struck a chord with me," Ms Pelizzari said.
"Women world-wide are dying of this cancer far too often.
"They are doing a lot of research now, but not nearly enough, so I want to raise some money to get that research happening."
The location of the charity walk also holds special meaning to Ms Pelizzari, whose sister returned to her birth country of Italy in October 2018, and suffered a fatal heart attack just one week later.
Originally planned for August, Lu's Dolce Vita charity walk has been postponed until June 2021 due to the COVID-19 pandemic.
It will involve about four to five hours, or 10 to 15kms, of steady walking per day.
Transfers will also be available for anyone who may not be able to make the full distance.
Anyone wishing to join the group or find out more can contact Kellie on 0422 165 271 or email [email protected]