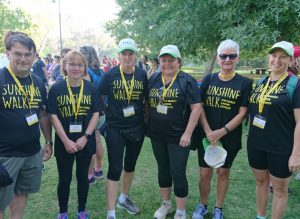 Rivalea has long history of support
Even before the Albury Wodonga Regional Cancer Centre was built, Rivalea became one of its major supporters.
That relationship has continued up to this day, with the Corowa-based pork producer being a Shine supporter of the cancer centre trust fund for almost five years.
Managing Director Mick Hewat said Rivalea has a long history of supporting local organisations within the communities in which it operates.
"When the concept of a new cancer centre was first developed it was easy to see the benefits that the local community would gain, especially for patients being able to receive treatment locally without having to travel to a capital city," he said.
"Rivalea has been supporting the centre since day one.
"Sadly too many of our employees, their families and their friends, as well as our local community members, have been touched by cancer in some way and we see the direct benefit that the centre offers so it's special for our organisation to be able to help and be involved in supporting the centre."
Rivalea is a leading integrated agri-food company based in the Riverina.
It operates extensive agricultural, processing and marketing activities which support it to produce a variety of high-quality pork products.
Rivalea has a workforce of more than 850 employees across many different sites and locations, and the company's head office and largest site is in Corowa where around 500 employees are located.
"Rivalea and our staff also were active in the inaugural Sunshine Walk in 2019 and we had several employees who either took part in one of the walks, helped with fundraising activities or directly contributed a donation to the team," Mr Hewat said.
"All up the Rivalea team made over $7000 for the cancer centre which far exceeded our expectations."