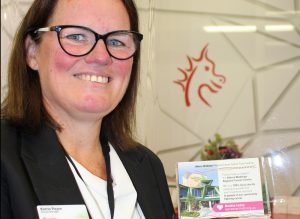 Even a little bit means a lot
Every little bit helps make a difference to cancer patients in our region.
Donation boxes are a great way for businesses to collect spare change and show their support for the cancer centre.
While 50 cents here and a dollar there may not seem like much, it all adds up and can have a life-changing impact for people with cancer and their families.
St George Bank Albury is among the local businesses which already have a donation box on display.
Branch Manager, Kerrie Payne, said the bank was proud to support local communities and help people in need.
"So many people are impacted by cancer, whether it be directly or indirectly," she said.
"Last year the St George Bank Albury branch raised funds for the Albury Wodonga Regional Cancer Centre by holding a morning tea.
"We had quite a few of our customers strike up the conversation about their experiences and they were so happy to see our support going to our local residents.
"It was such an honour to pass on some much needed support to our local cancer research centre."
Please phone (02) 6064 1538 or email [email protected] if you would like a lockable donation box delivered to your business, community group or school.