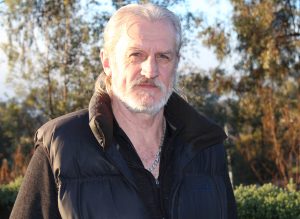 Centre footprint reaches far and wide
The Albury Wodonga Regional Cancer Centre services a population of 300,000 people right across our region.
Our patients regularly come as far as Henty, Holbrook, Khancoban, Bright, Mansfield and Deniliquin.
Some patients, like Tony Rugys of Woods Point, in the Mansfield Shire, even elect to make an eight-hour round trip to come here rather than tackle congestion in Melbourne.
Mr Rugys, 62, was diagnosed with leukaemia cutis (LC) in 2016 and has received all of his treatment in Albury.
"It's just simple to come here," he said.
"It's straight up the freeway and you can get a car park straight away.
"It's a lot further to travel but in the city you've got the hassle of peak hour traffic and I struggle to find a park big enough for my Hilux.
"It's stressful conditions; you're stressed out before you even see the doctor.
"At least travelling here there's no stress."
Mr Rugys said most Woods Point residents choose to make the 270km journey to Albury for cancer treatment rather than travel to Melbourne, which is almost 100km closer.