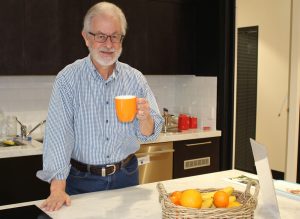 Men unite in fight against cancer
A new-look support group for men diagnosed with cancer has formed at the Albury Wodonga Regional Cancer Centre.
Dubbed "Men Against Cancer", the group allows for men to exchange information with other men who have experienced cancer and provide mutual encouragement.
Cancer patient, Mel Jackson, hoped the new format would attract more men, or "brothers in arms", to get behind one another in their fight against cancer.
"It's good to get alongside men who are in the same battle as you," he said.
"There's a lot to be learnt from each other and men can be an encouragement to one another in times of adversity.
"Secondly, this will give men the opportunity to get information from experts that they can use in their own personal cancer journey."
After being diagnosed in June 2018, Mr Jackson has undergone nine rounds of immunotherapy at the cancer centre.
He said it came as a shock when he was told he had cancer, but attending the support group helped him immensely.
"It was great to meet with blokes with similar experiences and to learn from their journey," Mr Jackson said.
Funded by the Albury Wodonga Regional Cancer Centre Trust Fund, the Men Against Cancer group meets every two months in the Wellness Centre of the cancer centre.
The next meeting will be held on Tuesday, May 26 from 10am to midday.
Anyone interested in attending the group can contact the Wellness Centre on (02) 6064 1562, or email [email protected]