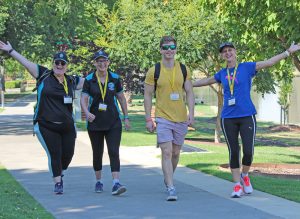 There were lots of smiles, tears and laughter as more than 1000 people took part in the inaugural Sunshine Walk, held in support of the Albury Wodonga Regional Cancer Centre.
Although getting together with friends and family for a fun event, many of those completing the 20km and 5km treks also remembered loved ones lost to cancer, or those still on the cancer journey.
Their efforts in the lead up to the Sunshine Walk in November helped raise a staggering $190,000 for the Albury Wodonga Regional Cancer Centre Trust Fund, which was $90,000 above target.
Further donations were also expected to be made in the proceeding weeks.
Sunshine Week Ambassador, Cristy Jacka, said completing the 20km course, along with her daughter Lucy, was one of the best things she has done in years.
"I'm so proud to be part of this, so proud to be the ambassador, and can't wait for next year," she said.
"The spirit has been one of the best parts of it because you walk past people you have no idea who they are and have a chat to them, or you listen to their story.
"Everyone's just so inclusive and if someone sees you struggling they give you a high five and you think, 'Righto let's do this'."
Also completing the 20km course was Claire Boyd, who registered a team as a show of support for her friend and fellow Brave Hearts on the Murray member, Brenda Konecnik.
"Brenda is going through cancer treatment at the moment and we just all love her so much at Brave Hearts, and wanted to help out by donating," Ms Boyd said.
"She pushed me along in the last 10km and she's just a superstar."
Challenge Cups were awarded to Team Sampson (Friends and Family Team Cup), Victory Lutheran College (School Cup), Hearts of Howlong (Town Cup) and Ray White Albury (Corporate Cup).
Hayden Sampson, also a Sunshine Walk Ambassador, said he was proud after Team Sampson raised $27,600 for the Sunshine Walk.
"We worked hard for this, we achieved our goal and it was great to help a great cause," he said.
Held as part of the Trust Fund's Sunshine Week celebrations, the walk exceeded expected participation by 500 people despite a last-minute move from Hovell Tree Park to Noreuil Park.
Manager Kristy McMahon said it was a "mind-blowing" result that could not have been achieved without the hard work of many.
"To our walkers, donors, corporate sponsors, volunteers, everyone involved in the Sunshine Walk in one way or another, a huge thank you for making this event such a success," she said.
"We are also very grateful to the many businesses and volunteers who took part in the McDonald's Family Fun Day to help our walkers celebrate their wonderful achievement.
"We are excited to announce the Sunshine Walk will be held again next year and hope that we see you all there again then."