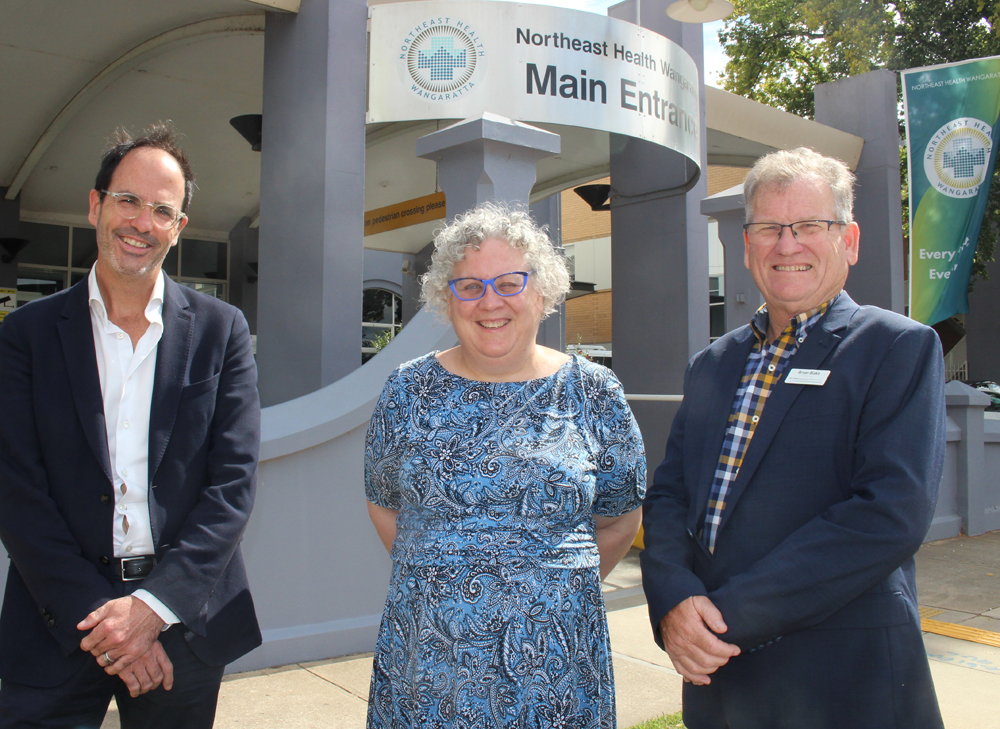 Men to benefit from $300,000 boost
Men in Wangaratta and surrounds will be able to access quicker and safer prostate cancer treatment following a $300,000 grant from the Albury Wodonga Regional Cancer Centre Trust Fund.
Northeast Health Wangaratta will use the money to purchase a state-of-the-art ultrasound machine and other specialist biopsy equipment currently only available locally in Wodonga.
This will not only slash wait times, but also allow men in the Wangaratta region to have the procedure done close to their home and support networks.
Trust Fund board member Bryan Blake said the charity was proud to be able to support cancer services in Wangaratta, and thanked a Rutherglen couple who made a significant donation towards the equipment.
"The donation from the Horne Family Trust has probably started something off to take us into a new era in our local area of philanthropic donations," he said.
"We thank them for their incredible donation, as well as everyone who has supported our local charity in any way."
Urologist Mark Forbes welcomed the funding with the new transperineal unit set to improve the accuracy of biopsies, and allow Wangaratta to deliver radiation therapy in a new way to reduce the infection risk to patients.
"Transperineal biopsies through the skin avoid infection risk completely and in addition, combined with MRI, allow targeting of lesions resulting in a significantly improved diagnosis rate," he said.
"This is now the international gold standard."
Dr Forbes said the only transperineal biopsy unit available in North East Victoria, which includes a catchment area as far west as Shepparton, as south as Seymour and all the way across to Gippsland, is at Wodonga hospital.
"Obtaining a transperineal biopsy unit in Wangaratta will allow these men much more timely access to this important technology, significantly speeding up the diagnosis and reducing anxiety around wait times for it," he said.
"In addition, men who may have chosen to travel to Melbourne due to a lack of timely availability of this procedure will now be able to access it close to home."
Northeast Health Wangaratta acting chief executive, Robyn Gillis, said the equipment would expand services at the hospital.
This would include the possible expansion of gynaecology and colorectal services, and the potential for Barrigel insertion, which helps protect prostate cancer patients from the side effects of radiotherapy.
"A transperineal biopsy kit in Wangaratta would allow us to schedule biopsies weekly as required rather than wait for the urologists' once-monthly list in Wodonga," she said.
"We thank the Albury Wodonga Regional Cancer Centre Trust Fund, which also funds an outreach counselling service for cancer patients at our health service."