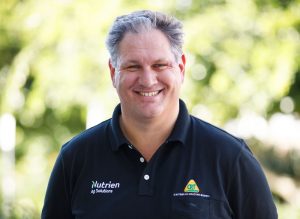 Supporting community
"

part of life

"

at Nutrien
Nutrien Ag Solutions is the latest organisation to become a Shimmer supporter of the Albury Wodonga Regional Cancer Centre Trust Fund.
 As a Shimmer-level corporate sponsor, Nutrien has pledged to donate $5000 to the Trust every year for the next three years.
 South East Regional Manager Jon White explains why the national agricultural company has thrown its support behind the cancer centre:
Nutrien Ag Solutions is delighted to have recently signed up to support the Albury Wodonga Regional Cancer Centre Trust Fund as a Shimmer sponsor.
Supporting the regional communities that we live and work in is part of life at Nutrien Ag Solutions.
With over 3500 employees living in regional Australia, the health and success of our local communities and regional cities is critical to the health and success of the Nutrien family.
A customer has recently made us aware of the work being done by the Albury Wodonga Regional Cancer Centre Trust Fund.
Cancer is a wicked disease and one that is all too familiar to many of us. Through personal experience, experience of family members, or friends, it's a disease that has touched most of us.
Pleasingly, the medical and scientific community is making extraordinary steps in treatments.
Being able to receive these treatments in a regional city as opposed to having to travel to a capital city to receive this best in class, seems like it should be a right for rural and regional Australians.
We are thrilled to begin supporting and working with the team to build on the work of making this the reality in Albury Wodonga.
Nutrien looks forward to not only being a shimmer sponsor, but using it network of branches throughout North East Victoria and the Riverina to assist in building awareness and supporting fundraising initiatives, with the Albury Wodonga Regional Cancer Centre Trust Fund.