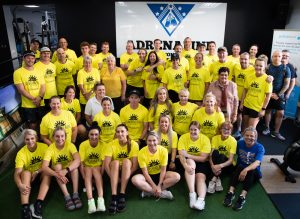 Ride raises nearly $70,000 for charity
Pushing through pain and mental fatigue, participants of a 24-hour bike ride have successfully raised almost $70,000 for the Albury Wodonga Regional Cancer Centre Trust Fund.
The Sunshine Ride in March saw five teams and more than 100 riders take part on exercise bikes in gyms in Albury, Wodonga and Wagga.
Organising committee member, Steve Ballard, was thrilled after the event almost doubled its fundraising tally of $36,600 last year.
"The community support we got was just amazing," he said.
"There were 380 donations made, which included contributions from about 60 businesses."
Most teams were based at Adrenaline Boxing and Conditioning in Albury, including police from both sides of the Border.
But joining the ride for the first time were the Murray Crays Football Club, based at PT Fitness Wodonga, and Anytime Fitness in Wagga.
Anytime Fitness team captain Katie Ross said she was proud to have helped raise $840 and awareness for the cancer centre in the Wagga region.
"It has been a journey, and a challenge for sure," she said.
"But it was really a rewarding experience for such a great cause."
Mr Ballard said energy levels were high at the start of the ride, but between 1am and 5am was a struggle.
"A lot of people were having longer rides so others could have a bit more of a rest," he said.
"But as soon as it was over, people were wanting to know when the next one was going to be held."
The organising committee has set next year's date for March 17 and 18.
Keep an eye on the AWRCC Sunshine Ride Facebook page for updates.