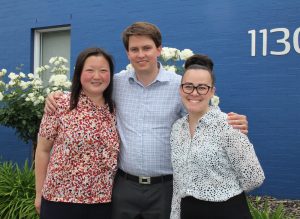 New Border practice offering cancer care
BORDER patients can access fully bulk-billed cancer specialist consultations at a new practice that opened in Albury in September.
Albury Wodonga Cancer Care has been founded by medical oncologists, Drs Brett Hamilton and Kay Xu, with consultations provided at both their West Albury clinic and at the Wangaratta Private Hospital.
After completing his specialist training in Sydney and Dubbo, Dr Hamilton moved to Albury to take up a position with Border Medical Oncology in 2019.
He left Border Medical Oncology in June this year after marrying Dr Xu, who also trained in Sydney including at the Melanoma Institute of Australia, before moving to Albury earlier this year.
The couple decided to make Albury their future home because of the lifestyle offered by the local region, and the availability of medical specialists to support their work in treating patients with cancer.
"Having worked at hospitals across Sydney, we've had experience with very skilled medical specialists and the pathologists, radiologists and other specialists in our region are outstanding," Dr Xu said.
"No one should be worried about having treatment in the country.
"I think we have excellent resources and facilities out here."
Dr Hamilton said the $65 million cancer centre, opened in 2016, was also a deciding factor when choosing where to base their work.
"The cancer centre itself was an initial attraction," he said.
"I finished my training a couple of years before Kay and when I was looking for somewhere for us to hopefully work in the future, the cancer centre set a very good first impression and I think it leant credibility to the region almost straight away."
Although acknowledging the concept for the centre was to bring cancer services together under the one roof, Dr Hamilton said being based at West Albury hasn't impacted their operations.
"We've still got close ties with the radiation team, day oncology and specialist teams around here," he said.
All consultations at Albury Wodonga Cancer Care are bulk-billed to Medicare for both public and private health care patients.
For further information, click here