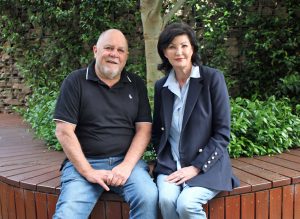 Long-serving members retire from Trust board
One of the longest serving board members of the Albury Wodonga Regional Cancer Centre Trust Fund has come to the end of his tenure.
John Mollison was one of six founding members of the Trust, which formed in November 2012.
After nine years on the volunteer board, including six as treasurer, Mr Mollison stepped down at the annual general meeting in November along with another long-serving member, Colleen Gorman.
Mrs Gorman, who first became involved with the Trust through the fundraising committee in 2017, has resigned to spend some time in Queensland after serving with the board for four years.
It was through his work at the Bendigo Bank that Mr Mollison had come to know cancer centre campaigner, the late Eric Turner.
Mr Turner had called a meeting to establish a Trust Fund to support the newly announced cancer centre, and decided that Mr Mollison should be treasurer.
"You couldn't say no to Eric," he said.
"He was just an amazing man."
Mr Mollison said it took some time to garner support for a cancer centre that not yet existed, but as momentum began to build, the work eventually got too much for the board of volunteers and a decision was made to employ a part-time manager.
The Trust was well-established when the cancer centre finally opened in November 2016.
"That was just such a proud moment," Mr Mollison said.
"To see that we had this great facility and we were going to be a part of its growth was just amazing."
Mr Mollison said he had many proud moments during his time on the board, including overseeing the investment of almost $2.5 million of community funds in new cancer equipment, staff training and development, research and the Wellness Centre.
But he said one of his fondest memories was providing hands-on support to the inaugural Sunshine Walk, which started and finished at Noreuil Park, Albury in 2019.
"It was a fantastic day and seeing the community get behind us like that was just such a highlight," he said.
Mrs Gorman was a volunteer with the Look Good Feel Better program when she was invited to tour the cancer centre after the official opening.
Inspired by the new facility, Mrs Gorman decided to join the Trust's fundraising committee before also becoming a member of the board.
Apart from playing a major role in fundraising events such as Sunshine Week and the Night in White, held in 2017 and 2018, Mrs Gorman also enjoyed working with other passionate members of the board.
"I loved being able to discuss how the community can get together and help the community be as one, which is lost in the big cities," she said.
"We still are very much a country town, no matter how much we grow, and we do all pitch in together."
Being involved with the Sunshine Walk has also been a huge highlight for Mrs Gorman, who walked alongside participants and also offered assistance.
"Just going around to the different groups and giving them water and snacks, and seeing all of their enthusiasm," she said.
"People are so excited to be doing the walk and that enthusiasm is contagious.
"It's just a great event whether it's held in its normal format or virtually."
Another long-serving board member, oncologist Dr Craig Underhill, also completed his nine-year tenure in November, but will remain on the board as an ex-officio member.