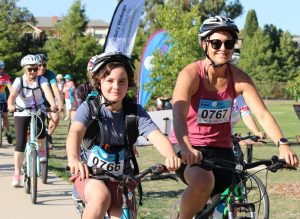 Gear up for the Lake Hume Cycle Challenge
The Jayco Albury Wodonga Lake Hume Cycle Challenge is back, but not as you know it.
The 2022 event will have an all-new start and finish line on the lake, with four rides centred on the High Country Rail Trail, as well as spectacular water and mountain views.
The date of the ride has also changed to Sunday, March 13 to take advantage of the Victorian and ACT long weekend.
But one thing remains the same according to ride director, Colin Maginnity, and that is the aim to raise money for a worthy local cause.
"Since 2012, the Lake Hume Cycle Challenge has raised more than $180,000 and we will again direct proceeds to the Wellness Centre within the Albury Wodonga Regional Cancer Centre," Mr Maginnity said.
"This service is vital in providing wellness and support programs to cancer patients in addition to their medical treatment.
"It includes services like counselling, mindfulness, support groups and exercise classes, which receive no government funding but rely solely on funds raised by the community."
The Rotary Club of Bellbridge-Lake Hume has joined forces with the Rotary Club of Albury North to organise the 2022 Lake Hume Cycle Challenge with the support of a range of sponsors.
The event will start and finish at Ebden Reserve on the foreshore of Lake Hume, which is now full to the brim.
Keen cyclists will be challenged by the 80km Bethanga Beast, with 988m of elevation, or the 65km Sandy Creek loop with an elevation of 870m.
More casual riders can take on the 40km Tallangatta Trail Tour or 15km Kiewa River Family ride.
Mr Magginity said rides will be largely based on the High Country Rail Trail and other country roads, including sections of gravel to interest a wider range of riders and age groups.
"This change further improves safety for our riders and provides and accessible opportunity to enjoy the outdoors and try something new," Mr Magginity said.
Also new this year is free entry for primary school-aged children, and reduced entry fees for a second parent and high school-aged students.
As well as supporting the Wellness Centre, Lake Hume Cycle Challenge chair David Dow said it also aimed to promote regular outdoor exercise, and encourage family participation and social connections.
"The pandemic has impacted people financially, emotionally and socially," he said.
"This year particularly, people are feeling a need for something to look forward to.
"This event which brings our community together for a ride out in the countryside will be great for people's spirits, and they will be able to feel part of something bigger in helping a great local cause."
For further information or to register, click here