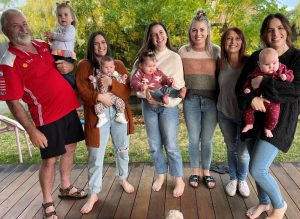 Holding hope for a bright future
After being diagnosed with a rare, advanced cancer in 2019, Deb McLees knows that time is not on her side.
The Albury grandmother has been undergoing chemotherapy to help keep her bile duct cancer at bay, but admits that treatment can never really offer true hope of a cure.
A new clinical trial at the Albury Wodonga Regional Cancer Centre however, gives hope of a different kind; that one day, someone in her exact same position can go on to live a full and happy life.
Mrs McLees, 57, was the second person recruited to the new Molecular Screening and Therapeutics (MoST) program being undertaken by the Border Medical Oncology Research Unit.
It has seen molecular testing conducted on her previously removed tumour with the hope of finding a more effective treatment.
Following four rounds of chemotherapy, Mrs McLees said it was a "huge privilege" to be able to be involved with the trial which for the first time, is being offered in a regional area.
"Any trial, if there's a chance it could give me extra time, I definitely want to be a part of it," she said.
"But I'm not naïve to think that this is the be all and end all. If it doesn't help me, it will help someone in the future.
"For me, this is just another extension of what we're doing, and the fact that it can be done here in Albury is just fabulous."
The trial is being offered up to 50 patients in the region following a $27,500 grant from the Albury Wodonga Regional Cancer Centre Trust Fund.
As a way of giving back, one of Mrs McLee's four daughters, Jac Bullivant, decided to run a fundraiser on social media for her 30th birthday.
With the support of family and friends, she has managed to raise an incredible $5700.
"I would've loved nothing better than to see all my family and friends for a birthday celebration, but instead asked people to consider donating to the Trust Fund," she said.
"It's been an extremely difficult couple of years since my beautiful mother was diagnosed with cholangiocarcinoma, but we have been blessed that she has been able to have her chemotherapy treatments and overnight stays here in Albury at the cancer centre."
If you would like to donate to Mrs Bullivant's fundraiser, click here and mention her name in the comments section provided.