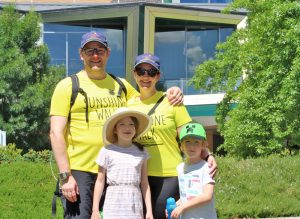 Richard's on the road to recovery
After beating non-Hodgkin's lymphoma this year, Albury's Richard Lukins set a goal to walk the full 20km Sunshine Walk.
The avid hiker and cyclist is looking to rebuild his form after undergoing six rounds of chemotherapy and two rounds of immunotherapy which finished in June.
He said the Sunshine Walk on November 7 provided the "perfect opportunity" to restart his fitness journey.
"We'll mark it off as a milestone in the recovery process," Mr Lukins said.
"I want to get back onto the bike and getting back to doing all those things – just keep pushing myself."
Mr Lukins and his partner, Sam Sharp, walked from Wirlinga to East Albury, with their children Catherine, 7, and Cameron, 6, joining them for the last 3km.
Walking past the Albury Wodonga Regional Cancer Centre, Mr Lukins said he was excited to get behind an event to support the local facility where he was able to have all of his treatment.
"It was just brilliant to have the cancer centre literally five minutes from home, not have to go to Melbourne during the pandemic or anything like that," he said.
"(My treatment) didn't interfere with Sam and the kids' lives or anything."
While 20km may not have been her first pick, Ms Sharp said she was happy to do the walk because she was grateful for how the cancer centre helped her family.
"I'm doing this because he's still here and we're still a family unit," she said.