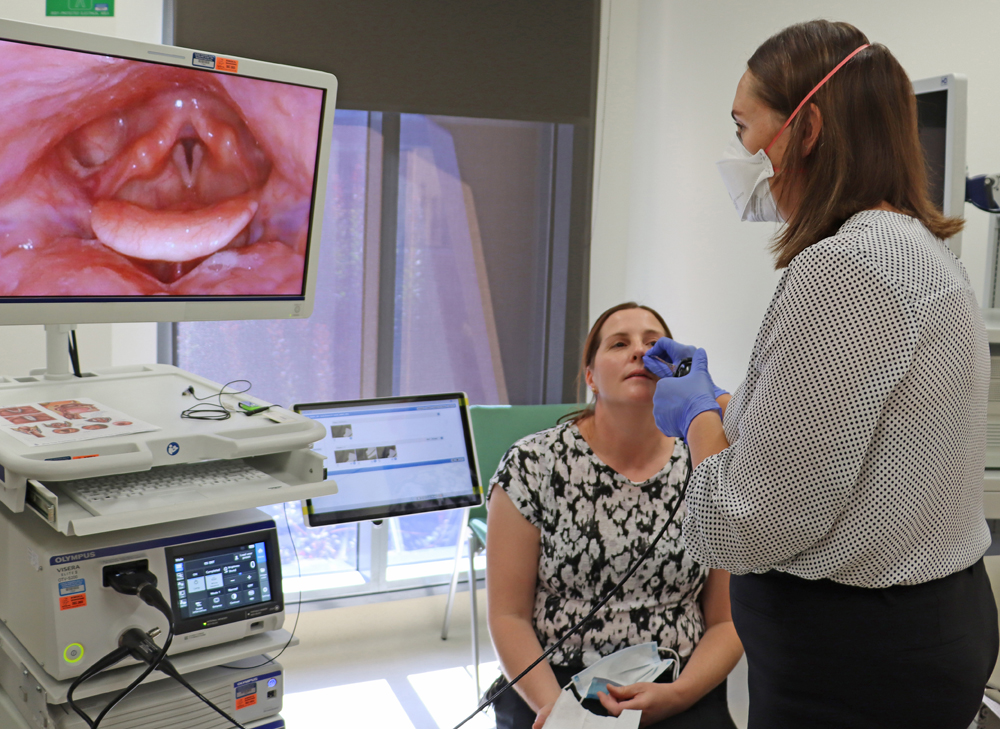 New scope to benefit head and neck cancer patients
SPECIALISED equipment used to assess the swallowing and voice function of head and neck cancer patients is now available in Albury thanks to a donation to the Albury Wodonga Regional Cancer Centre Trust Fund.
The rhino-laryngo video scope, valued at $70,350, is considered the "gold standard" for swallowing and voice assessment, and is a first for the Border region.
A strobe and microphone valued at $17,500 has also been purchased to exam the movement of the vocal cords to help patients experiencing voice difficulties.
The grant of almost $88,000 has been made possible through a donation from a Rutherglen resident who wishes to remain anonymous.
Trust Fund board member Kerry Strauch said the equipment was expected to benefit about 100 patients per year, or two patients per week.
"This number is expected to grow to between five and six patients a week once more staff are trained in using the equipment," she said.
"This is a wonderful result for our local region and we are incredibly grateful for the generous community support to make this purchase possible."
Albury Wodonga Health speech pathologist Natalie Wilkinson said the equipment could provide an assessment called Fibreoptic Endoscopic Evaluation of Swallowing (FEES) that allows instant clinical information that will assist cancer patients with swallowing assessment and management, including their food and fluid intake.
"Head and neck cancer patients undergoing chemotherapy or radiation often experience severe detrimental impacts to swallowing and communication function," she said.
"This is associated with a multitude of negative health outcomes including malnutrition, dehydration and fatigue, as well as psychosocial and quality of life impacts.
"This scope can be inserted through the nose to assess the movement and function of certain parts of the throat and nose that helps us to swallow and produce voice.
"This then gives our team the necessary information to introduce treatments and therapies which will help improve their ability to swallow and communicate."
The equipment will primarily be used by new oncology speech pathologist, Rebecca Richmond, who is based at the cancer centre.